Article
LGBT+ History Month
LGBT+ History Month takes place in February and is an opportunity to celebrate achievements and support LGBTQ+ staff.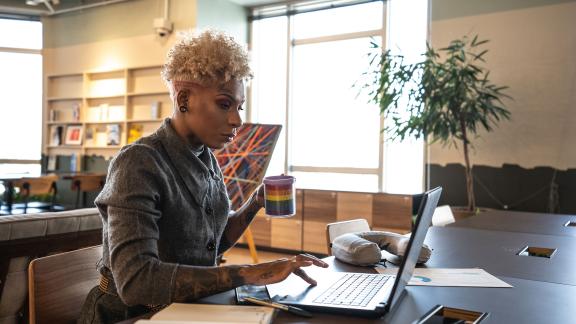 The campaign is celebrated across the NHS to increase the visibility of the entire LGBTQ+ community, as well as their history and experiences.
This year's national theme 'The Arc is Long' is inspired by a Martin Luther King quote: 'The arc of the moral universe is long, but it bends towards justice.' The quote is thought to mean that although it is taking a long time, we are curving/moving towards social justice and fairness. 
The month will provide a period of reflection, as throughout the pandemic, LGBTQ+ people have faced a unique set of health challenges, including increased isolation, and prolonged exposure to hostile environments.  
The NHS People Plan recognises the urgency of NHS leaders acting and creating an organisational culture where everyone feels that they belong – in particular, improving the experience of staff from diverse and minority backgrounds.
During LGBT+ History Month trusts across England have the opportunity to demonstrate how they are taking action to support LGBTQ+ equality in the workplace.Whilst there will be few in-person events taking place in the NHS due to the ongoing pandemic, there many ways NHS trusts can encourage staff to still get involved.  
What's happening in the NHS during LGBT+ History Month in 2022
Access LGBTQ+ resources and information
Get involved  
Keep an eye on our website and Twitter using hashtag #LGBTHistoryMonth as we and our Health & Care LGBTQ+ Leaders Network join in the celebrations, share stories and resources. 
 
Should you have any queries please contact diversityandinclusion@nhsemployers.org