Article
LGBT+ History Month
LGBT+ History Month takes place in February and is an opportunity to celebrate achievements and support LGBTQ+ staff.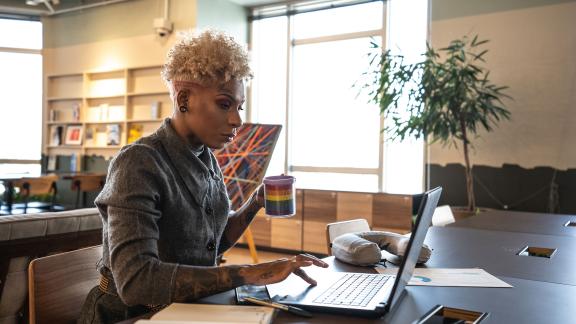 The campaign is celebrated across the NHS to increase the visibility of the entire LGBTQ+ community, as well as their history, lives and experiences. In 2021 it reflected the commitment set out in the NHS People Plan 2020-21 with the ambition of fostering a culture of inclusion and belonging in the NHS.
The theme for LGBT+ History Month was body, mind and spirit. The NHS People Plan recognises the urgency of NHS leaders acting and creating an organisational culture where everyone feels that they belong – in particular, improving the experience of staff from minority backgrounds. Therefore, trusts across England had the opportunity to demonstrate how they had undertaken action to support LGBTQ+ equality in the workplace.
During the COVID-19 pandemic, LGBTQ+ people have faced a unique set of health challenges, including increased isolation and prolonged exposure to hostile environments. 
What happened during LGBT+ History Month
Due to the pandemic there were fewer in-person events taking place within the NHS in 2021, however there were many ways NHS trusts supported the campaign.
The 

Health and Care LGBTQ+ Leaders Network 

and 

Mental Health Network

 hosted a webinar 'Supporting the mental health of young people who identify as LGBTQ+' on 25 February. 
LGBTQ+ networks across the NHS promoted the importance of staff networks as highlighted by 

research

 published by Dr Anna Einarsdottir at the University of York. The University screened a film on 23 February inspired by the research, the film tells the story of Natasha, a lesbian cisgender media officer at Greenwell Trust. 
Mersey Care NHS Foundation Trust hosted a talk and testing session to highlight the services they provide. It took place on 28 February at the 

Armistead Centre

 which provides free and confidential sexual health and wellbeing support and advice to Liverpool's Lesbian, Gay, Bisexual and Transgender (LGBTQI+) community.
Chelsea Westminster Hospitals Foundation Trust developed 

a timeline

 outlining key areas of progress in line with LGBTQ+ equality, as well as powerful words from icons in the LGBTQ+ community.
The 

LGBT Foundation

 organised a series of events during February addressing diverse issues ranging from healthcare to literature.

Northumbria Healthcare Trust had a comprehensive programme of activities including a learning session 'Everything you wanted to know but were afraid to ask', with a focus on trans issues. 

North West Boroughs Healthcare NHS Foundation Trust held a week of 

themed activities

 which included; the history of the LGBT+ community over the decades; a guide to terminology; intersectionality for LGBT+ communities and the history of drag queens and recent drag cultural influences on social media and language.

Leicestershire Partnership NHS Trust and Northamptonshire Healthcare NHS Foundation Trust hosted a meeting focusing on the mind, body and spirit on Monday 22 February, 9.30am – 1.30pm. Speakers included Dr Michael Brady, national LGBT advisor, Tim Couchman, equality and diversity lead and Spectrum Staff Network. 
Further information