Blog post
Overcoming challenges as a South Asian NHS leader with a disability
As part of South Asian Heritage Month, Faisal Hussain shares insights on how the values instilled in him, helped him overcome many challenges.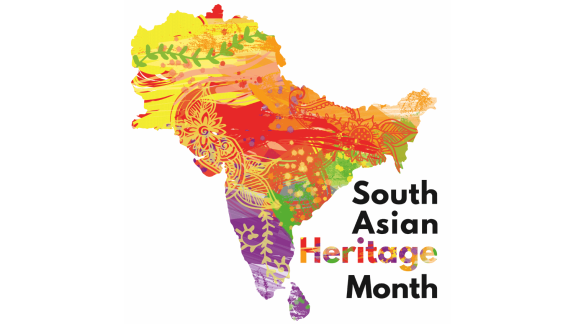 When I think about South Asian History Month and its relevance today, in modern Britain, for me it is far more than a get together with friends and colleagues to share a samosa and a cuppa (as nice as that is).  It is much more. I use it as a period of reflection, to think about my journey of where I came from and, the values and beliefs instilled in me that help me overcome any challenges I face. 
This blog post was first published in August 2021
Arriving in England, aged four and a half with my mother, on a cold February morning in 1968 I was a rather grumpy child (understandable after a ten hour flight from Pakistan). Only a couple of days earlier I was in warm sunshine and had to be prised out of my grandparents' arms, kicking and screaming. I didn't understand why I had to leave everything that I knew and loved. My mother and I had travelled to join my father who had already settled here, a few years earlier, after he retired from the Navy.
Those early years were tough (not that I realised then) for my parents working all hours to feed and clothe us, as well as supporting dependants in Pakistan. In many ways, my childhood was idyllic, filled with love and support. I was sheltered from the changing attitudes and hostility of the local indigenous population towards immigrants. 
At high school I soon learned about the widespread vitriol towards black and Asian people in Leicester.  As an 11 year-old, I was perplexed by some of the racial slurs directed at me. However, my father was always on hand to explain that people are often afraid of things that are different to them. He made sure that I understood my South Asian heritage and, that I carried a responsibility to give the best account of myself in everything that I did so people better understood me and my culture. 
"Throughout my life my father's words have continued to resonate with me and guide me in everything that I do."

I had my life mapped out: university, travel, and onto work in the Foreign Office – or so I thought.  However, a car accident changed my life in an instant, leaving me paralysed and permanently in a wheelchair. How could I achieve any of my ambitions now?
During my long period of rehabilitation when my own strength and courage failed, my parents and all the hospital staff would not let me give up, continually pushing me to reach my full potential.
Through hard work and determination, along with support and encouragement from my then fiancée (now wife), I returned to driving which gave me newfound independence and, I also returned to university to complete my degree. After graduating, finding work as a disabled person from a South Asian background proved very difficult. To help increase my job prospects and, demonstrate my determination I also completed a post-graduate degree. It took me a further seven months to find a job with a not-for-profit organisation.
My original ambition of travelling abroad working in the Foreign Office hadn't changed because I was now disabled but, access and other personal circumstances made that much more difficult. I was eventually successful in applying for a role in local government which proved to be equally rewarding and challenging.  Within six months I was promoted to team leader and in a further three years gained my first senior role.
As my career progressed and I attended more senior-level meetings I was more-often than not the only person of colour and with a visible disability.  
"I found myself being a standard-bearer for two protected characteristics – intersectionality."
 
Without any role models to emulate and be encouraged by, I felt my career options to be more limited than colleagues not from a black and Asian background, or with a disability.
Having now been a non-executive director for four years and more recently becoming deputy chair at Leicestershire Partnership NHS Trust, I try to use my lived experiences and insights to support positive change for staff and patients. For those very same reasons, with the support of my trust chair, I am the board champion for the Workforce Race Equality Standard (WRES) and Workforce Disability Equality Standard (WDES) because, I am passionate about promoting inclusive and diverse organisations that reflect the communities we serve.
It is my sincere hope that others in similar situations to mine will be encouraged to see someone like me in a senior role within the NHS and, therefore feel able to pursue their own ambitions without limits.
Faisal Hussain is non-executive director and deputy chair at Leicestershire Partnership NHS Trust. Follow Faisal on Twitter @LPT_DeputyChair.