Blog post
From support worker to dream career: Emily's journey
Emily Henfrey shares her experience working in the NHS, and how she utilised development opportunities available to her.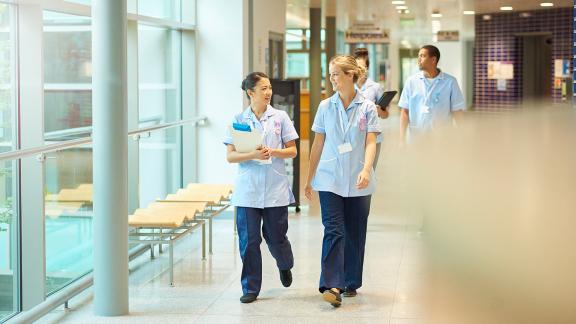 Emily's story is an important one for aspiring nurses, as well as trusts that want to create effective pathways for nursing and nursing associate roles to fulfil the NHS Long Term Plan's ambitions of expanding the nursing workforce. 
Currently, I work as a nursing associate on the maternity ward at Mid Yorkshire Hospitals NHS Trust. My dream has always been to become a nurse. Although I am still on my journey to get there, I can confidently say that the opportunities in my trust opened doors for me to get to where I am today. 
I started my level two healthcare support worker apprenticeship at Leeds Teaching Hospitals, which I completed in two years. This gave me the knowledge and experience to successfully apply for a maternity support worker role at the trust shortly after. I spent an eye opening few months in the role, supporting a busy maternity ward. 
I quickly felt confident and ready to move on to the next step in my career. I took a leap of faith and successfully embarked on my second apprenticeship in the trust; the level 5 nursing associate apprenticeship programme. I haven't looked back since. 
Although it took a lot of determination and hard work, working alongside my course was manageable, since I could learn and earn simultaneously. I was at university for one day a week and worked alongside the midwives on the maternity ward for the rest. The opportunity to gain practical experience helped my understanding and confidence, and I truly believe it enhanced my clinical competence. I am motivated by the enormous positive impact my work has on the lives of patients and other clinicians I work with.
I love what I do but it's not the end of the road for me! My trust offers a top-up apprenticeship route to enable nursing associates to become registered nurses. This is highly attractive since I wouldn't have to start the nursing degree from scratch, and I could carry on working. Alternatively, I could return to university full time and join the nursing degree course students in their second year. This is a fast-track programme offered by the university I studied with and I'm sure would benefit many others if it was made more widely available. 
I hope to once again be successful in the next cohort for the apprenticeship route, but it is comforting to know other options are available to me too. Either way, I will get there, and I'm sure if you are determined, you can too.    
I highly recommend other NHS organisations support their staff through development opportunities and their NHS career, to help staff achieve their passions and goals, the same way my organisation has with me.