Article
Surgical care practitioners
Information for employers on the surgical care practitioner role and how it fits within the NHS.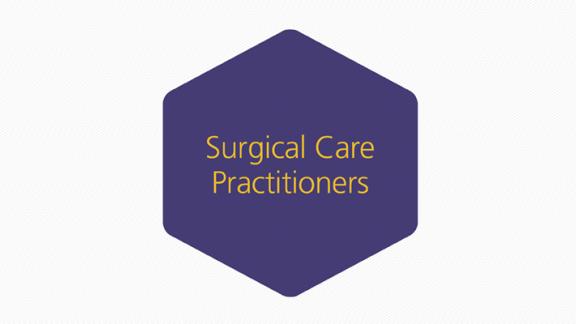 More information on the surgical care practitioner role, including what training and qualifications they have and how they work within the NHS.
What are surgical care practitioners?
Surgical care practitioners (SCPs) are registered healthcare professionals (nurses, operating department practitioners or other allied health professionals) who have extended the scope of their practice to work as a member of a surgical team. They perform surgical intervention and preoperative/ postoperative care under the supervision and direction of a consultant.
What can surgical care practitioners do?
The role encompasses pre, intra and post-operative care. Under the direction of a consultant surgeon, the SCP can:
perform preoperative assessments, including clinical history taking and physical examination
enhance the communication links between theatre, patient and ward
assist with the preparation of the patient, including urinary catheterization and venepuncture, patient positioning and preparation
provide assistance with surgical procedures
offer some technical and operative procedures according to their scope of practice
facilitate the training of trainee surgeons
arrange appropriate pre and postoperative investigations
carry out post-operative care – including wound assessment and management
evaluate care, including the discharge process, follows up care and outpatient activities.
What training and qualifications do surgical care practitioners have?
SCPs are registered non-medical practitioners who have completed a Royal College of Surgeons (RCS) accredited programme and acknowledged by the Department of Health and Social Care. There are a number of educational routes through which this can be achieved including completion of a minimum graduate programme of study offered by a number of academic institutes. In addition, stand-alone study days, such as a surgical skill workshop, can also help the SCP attain appropriate skills.
How do surgical care practitioners fit into the NHS workforce?
Once qualified, SCPs can enhance patient care, maintain surgical services and support surgical training. They can also improve the continuity of patient care and communications for patients and the multidisciplinary team of patient care and communications for patients and the multidisciplinary team.
Further information
For further information see our case study, infographic and watch our film below.
Watch a webinar about surgical care practitioners.