Article
Wellbeing guardians
Guidance for health and wellbeing leads about what they need to do to implement wellbeing guardians as part of the NHS People Plan.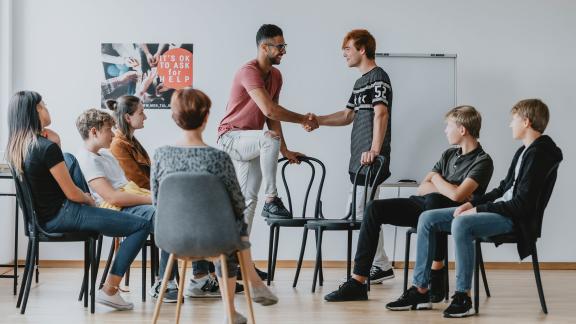 Protecting the health and wellbeing of your staff is vital - without staff being well at work, your organisation could not deliver quality and effective patient care. As decisions made at board level can often impact staff, it's important to have a member of the board whose role is to ensure any significant changes improve the wellbeing of staff.
In 2019, Health Education England (HEE) published a Mental Wellbeing Commission Report that introduced the idea of a wellbeing guardian. The report highlighted the importance of having a board member that is solely responsible for questioning decisions that could be detrimental to the mental wellbeing of staff.

NHS England and NHS Improvement (NHSEI) echoed this in the 2020-21 NHS People Plan that stated that every NHS employer should introduce a wellbeing guardian into their organisation. On 28 January 2021, NHSEI launched NHSEI wellbeing guardian resources, detailing the roles, principles of wellbeing guardians, as well as an implementation guide.
What is a wellbeing guardian and who should take on this role?
A wellbeing guardian is a senior leader that questions decisions and challenges behaviours that impact on the health and wellbeing of staff.

The role is considered best suited to a non-executive director (NED). If your organisation does not have a NED (for example, clinical commissioning groups or primary care networks), individuals in equivalent roles, such as a clinical director, should be considered.

The wellbeing guardian does not need specialist knowledge, but should have a genuine interest in the health and wellbeing of the NHS people, and be confident to challenge the executive team on behalf of the board.
It is your organisation's responsibility to appoint a wellbeing guardian. NHSEI suggests that this individual should:
listen well and find ways to connect with staff and networks
support and work closely with HR directors and other executives leading in health and wellbeing areas
feel confident when challenging the board and senior leaders, questioning decisions that may impact on the wellbeing of NHS staff
challenge behaviours or parts of organisational culture that may be detrimental to others
have an awareness of the protected characteristics outlined in the Equality Act (2010) and be committed that inequalities based on a protected characteristic are challenged and removed.
The role of the wellbeing guardian
The guardian will work inclusively to encourage a model of wellbeing leadership. This role aims to build on the pre-existing, internal resources of your organisation, to increase advocacy and ownership of the mental and physical wellbeing of NHS staff. Health and wellbeing leads will work closely with the wellbeing guardian.

We have summarised the nine board principles that NHSEI has outlined that a wellbeing guardian should support, as well as some ideas of how HR directors, health and wellbeing leads, or line managers, can integrate these principles into your roles and responsibilities.
This principle is in place to ensure that time and focus can be invested in health and wellbeing conversations, allowing the line manager to identify where work may be having a negative impact on staff wellbeing. Our free emotional wellbeing toolkit is useful when having such conversations and you could encourage your wellbeing guardian to use this in interactions with employers.

You may want to signpost the wellbeing guardian to our job evaluation pages in relation to this principle. They contain information about emotional effort at work, and specific details about the various levels of distressing clinical events that can impact on an employee's mental and physical wellbeing. You could work with the wellbeing guardian and the board to create a formalised process when checking in with an employee following a distressing clinical event, if not is not already in place.

The NHS People Plan outlines that from October 2020, all new NHS staff should have a health and wellbeing induction. As this is a new initiative, you may find it helpful to connect with the wellbeing guardian to involve them in the planning, delivery, and evaluation of the wellbeing inductions.

On our occupational health services web page, we outline some considerations such as holding occupation health open days, promoting opening hours of EAP services, and ensuring managers realise it is their responsibility to support employees' access to wellbeing services. Due to the strain the COVID-19 pandemic, this could be a priority area you wish to look at with your wellbeing guardian to ensure staff are aware of these services.

Suicide is preventable, and employers play a crucial role in suicide prevention. Our suicide prevention and postvention web page includes support for staff, resources, tools and training. Sharing this knowledge and awareness with a wellbeing guardian, NED, or equivalent, could strengthen your organisation's suicide prevention strategy.

This principle lends itself to focusing on your organisation's health and wellbeing strategy. Looking after the health and wellbeing of staff directly contributes to the delivery of quality patient care, and so the NHS needs staff that are healthy, well and at work.

Collaborating with the wellbeing guardian can help your organisation develop and maintain a health and wellbeing approach, with strong leadership and a solid strategy. Having regular coffee mornings, drop-in sessions or topical health and wellbeing workshops could help to embed a supportive and safe environment to promote psychological and physical wellbeing.

Linking in with your wellbeing guardian on this principle offers opportunities to celebrate, promote and raise awareness of diversity and inclusion in your organisation through organised events and webinars. Specially for overseas NHS people, our international recruitment toolkit can provide guidance.

Necessary adjustments can have a significant impact on an employee's experience and wellbeing at work. We have guidance to help you and the wellbeing guardian understand your organisation's legal duty, detailing key considerations. To ensure the adjustments take staff into consideration, connect with your diversity and inclusion lead, or network, as well as setting up focus groups.

Scheduling regular meetings with your wellbeing guardian can facilitate conversation about any key challenges or issues relating to health and wellbeing before being raised at a board meeting.
Top tips on working with your wellbeing guardian
Identify who could take on the role of a wellbeing guardian.
Once appointed, hold regular meetings with them so they know the organisation's health and wellbeing agenda and what they need to push for at board level.
Identify who could take on the role of being a wellbeing guardian in your organisation.
Build a successful and effective relationship with your wellbeing guardian by reading gaining board buy-in and support page, including our

staff wellbeing responsibilities for leaders description,

for an understanding of the key responsibilities at board level.
Set up a health and wellbeing forum with your wellbeing guardian and invite colleagues from across your organisation. Ensure that your forum has a focus on health and wellbeing project planning to help you work towards your health and wellbeing targets.
When working with your wellbeing guardian, use the NHS health and wellbeing diagnostic tool to work out your organisation's current health and wellbeing performance and identify your priorities to help streamline the wellbeing guardian's role.
Embed health and wellbeing as a priority in your organisation to encourage all staff to be involved and aware of health and wellbeing issues affecting the organisation. This will be helpful when informing your wellbeing guardian of what to discuss at board level. You can do this by; sending out staff surveys and holding information drop-in sessions where raise concerns.
Promote the role of the wellbeing guardian on your staff intranet/social media to raise awareness of who the wellbeing guardian is, their responsibilities, and how staff can share their feedback on issues they would like the Wellbeing Guardian to take to the board.
Monitor whether there have been any changes since the wellbeing guardian has been in post and whether there have been any significant impacts on the health and wellbeing agenda.
Gather intel from your workforce to find out how the wellbeing guardian role has been received by staff and whether they have any suggestions for improvements.
Good practice
South Central Ambulance Service (SCAS) implemented the chair of their trust as their wellbeing guardian. Their chair has been at the organisation since 2017 and also chairs Hampshire and the Isle of Wight and the South East Regional People Board. The wellbeing guardian has also held other non executive director (NED) roles in the NHS and brings experience in broadcasting and further and higher education.
Since implementing a wellbeing guardian, SCAS has said that the visibility of health and wellbeing has increased on the agenda at board level, they have found that there has been more opportunity to share good practice and greater discussions about of health and wellbeing within the trust have taken place, for example, showing leadership on webinars such as 'What's Normal Anyway?' and 'Time to Talk Day'.
SCAS recognises that there is a need for ongoing engagement with staff about the role of the wellbeing guardian, and continued work needs to be carried out on how to engage staff in trusted conversations so that they can continue to support the health and wellbeing agenda.
SCAS advises that it is important that organisations discover what is already available in terms of health and wellbeing within their trust to find out what is exactly needed, what they can push on the agenda and what they can promote. Horizon scanning is important to see what colleagues in other organisations are doing, as well as what systems they are using to help you in successfully implementing a guardian.