Article
Wellbeing guardians
Information and guidance for wellbeing guardians in your organisation.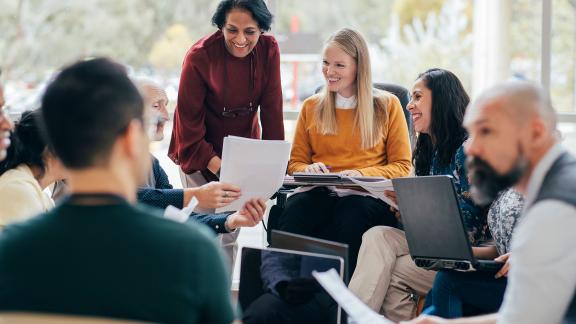 Protecting the health and wellbeing of your NHS employees is vital as without staff who are well at work, your organisation could not deliver quality and effective patient care.  As decisions made at board level can often impact staff, it's important the wellbeing guardian on your board will help your senior leaders make sure the health and wellbeing of your employees is at the heart of your organisational strategy.
NHS Employers, on behalf of NHS England (NHSE), have developed two new resources specifically designed to help you support your new wellbeing guardians in their role:
The resources have been developed in partnership with the NHS wellbeing guardian network, HRDs, NHS regional health and wellbeing managers, and NHS health and wellbeing leads. They are for NHS boards in large healthcare provider organisations and outlines how all board members play a vital role in supporting the wellbeing guardian to create a culture of wellbeing for their organisation.
Health and wellbeing in an organisation is everyone's responsibility and our senior leaders have a responsibility to support and champion the health and wellbeing of staff at board level.  This new guidance document and poster may be useful to your wellbeing guardian, human resources director and chair to help outline a discussion with your wider board level roles on how they support wellbeing of their employees in their leadership roles, and in doing so, support the wellbeing guardian.
Background
In 2019, Health Education England (HEE) published a NHS Staff and Learners' Mental Wellbeing Commission report which recommended the creation of a board-level NHS Wellbeing Guardian (see page 14).
NHS England echoed this in the 2020/21 NHS People Plan that stated that every NHS employer should introduce a wellbeing guardian into their organisation. In 2021, NHSE launched their wellbeing guardian resources, detailing the roles, principles of wellbeing guardians, as well as an implementation guide.
What are NHS organisations doing?
South Central Ambulance Service (SCAS) implemented the chair of their trust as their wellbeing guardian. Their chair has been at the organisation since 2017 and also chairs Hampshire and the Isle of Wight and the South East Regional People Board. The wellbeing guardian has also held other non executive director (NED) roles in the NHS and brings experience in broadcasting and further and higher education.
Since implementing a wellbeing guardian, SCAS has said that the visibility of health and wellbeing has increased on the agenda at board level, they have found that there has been more opportunity to share good practice and greater discussions about of health and wellbeing within the trust have taken place, for example, showing leadership on webinars such as 'What's Normal Anyway?' and 'Time to Talk Day'.
SCAS recognises that there is a need for ongoing engagement with staff about the role of the wellbeing guardian, and continued work needs to be carried out on how to engage staff in trusted conversations so that they can continue to support the health and wellbeing agenda.
SCAS advises that it is important that organisations discover what is already available in terms of health and wellbeing within their trust to find out what is exactly needed, what they can push on the agenda and what they can promote. Horizon scanning is important to see what colleagues in other organisations are doing, as well as what systems they are using to help you in successfully implementing a guardian.
Further information
For more information and resources to support your wellbeing guardian you can visit the NHS England website.