Case Study
Values based recruitment at York and Scarborough Teaching Hospitals
A case study looking at how York and Scarborough Teaching Hospitals NHS Foundation Trust has reviewed and improved its VBR.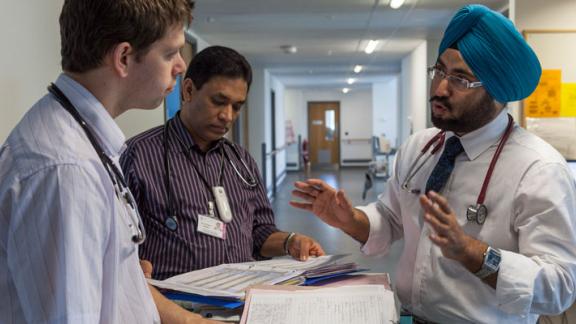 York and Scarborough Teaching Hospitals NHS Foundation Trust overhauled its consultant recruitment process to align it to the trust's values of kind, open and excellent, and to ensure the process worked in a virtual setting.
Key benefits and outcomes
Showed commitment to organisational values by embedding them in core HR processes.

Fuller picture of candidates, making it easier to assess suitability for appointment.

Comparable number of consultants recruited since the process went live, despite the additional challenges posed by the pandemic.
What the organisation faced
The trust found that its recruitment process for hiring consultants did not translate well to a virtual setting. In the five years that had passed since the process was last reviewed, the market had changed and it had become outdated. A refresh was needed to reflect the new environment recruitment was taking place in. A refresh also provided an opportunity to embed the newly developed organisational values of kind, open and excellent, which were chosen by staff, into a core HR processes.
What the organisation did
The trust made its job communications more welcoming and reframed advertisements for consultant roles as somewhere people can learn and develop into their roles. An emphasis on process was removed, and instead a focus was placed on how candidates would contribute to the leadership of the organisation, in line with the trust's new values.
An improved interview process was developed. Clinical experience and competency were still assessed but, in the interviews, more focus was placed on learning about the candidates themselves: what they enjoy about their jobs, what motivates them most, what their achievements are, and what made them want to work for York and Scarborough Teaching Hospitals.
Interview panels were reduced from eight people to a maximum of five and the HR team provided an interview framework that placed an emphasis on fluid conversation, rather than a rigid set of 10 – 12 competency-based questions and answers.
Panels found that the new format allowed the candidates to direct the flow of conversation and that typically four or five threads of conversation followed, providing more information on the candidates themselves, their working styles, ambitions, and backgrounds.
Criteria to mark candidates against and training and guidance on how to map discussion points across to criteria was provided and panels were able to assess, among other things, leadership, values and internal and external collaboration. The consideration of each other's values therefore informed the majority of the interview and the end assessment process.
Results and benefits
The trust has recruited 43 consultants since launching the process in June 2020, a number comparable to the year before, despite the challenges posed by the pandemic.
It achieved a 61 per cent application conversion rate.
Anecdotally, candidates have provided positive feedback on the process and felt that the organisational values shone through. Going forward, the organisation will consider how formal evaluation can build on positive anecdotal feedback.
Interview panels found more time was needed to assess what they had heard in interviews to score candidates and provide feedback. However, this was a positive as it removed impulsive marking and encouraged more considered scoring against criteria. Most panel members felt that the new process made it easier to score candidates against criteria.
The new process was nimbler and slicker, less resource-intensive and supported the trust's ambition to be more responsive to the recruitment market. 100 per cent of panel members found the interviews more enjoyable, making it easier for the trust to recruit interview panels in the future.
Overcoming obstacles
The decision to change the process was made during the pandemic which meant the overhaul was time pressured.
After a two-month trial period, where the process was used in four panels, the HR team saw that it was working and prepared a paper for the executive committee to formalise the process.
Board level support, including having a chair with a HR background who was passionate about consultant recruitment helped, as the chair championed the idea during pre-meets and training sessions.
Top tips
Trusts can show their commitment to organisational values by embedding them into core HR processes.

More can be learnt about a candidate if greater emphasis is placed on themselves and their motivation for applying for a role.

Taking the time to explain the new process to panel members and providing supporting guidance will help to ensure the interviews go well.

Achieving board level support is helpful in ensuring a new idea or process lands well.
Further information
For more information about the work in this case study, contact Will Thornton, head of resourcing, York and Scarborough Teaching Hospitals NHS Foundation Trust: will.thornton@york.nhs.uk