Guidance
Positive disclosure: a discussion guide
An aid to support recruiting managers to follow best practice when an applicant declares a previous criminal conviction.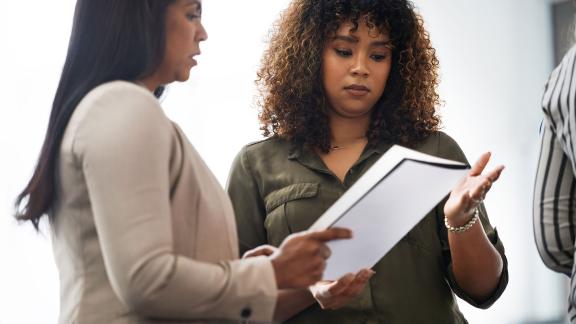 This discussion guide supports recruiting managers to follow best practice when an applicant declares a previous criminal conviction, or if a caution is disclosed following a Disclosure and Barring Service (DBS) check.
This guide:
supports recruiting managers to follow best practice when an applicant declares a previous criminal conviction

details what to do if a caution is disclosed following a Disclosure and Barring Service (DBS) check

contains discussion tips and links to other helpful resources and guidance.
The NHS People Plan places a focus on inclusive recruitment and the need for NHS organisations to adapt their recruitment processes to ensure their workforces reflect the diversity of the communities they serve.
This guide aims to assist hiring managers and HR departments in following best practice when a criminal conviction or caution is disclosed by an applicant, or when a conviction or caution is disclosed following a Disclosure and Barring Service (DBS) check. 
It is important that employers take into account what the law permits and ensure fair judgement of the applicant's suitability, while considering what is best for the organisation and the services it provides to patients. 
Managers should only consider convictions and cautions that are specifically relevant to the position being appointed to. Further consideration should then be given as to whether the crime would pose any potential opportunities/risks while delivering that role. 

If the DBS disclosure certificate affirms a conviction the applicant has already disclosed, and this information has already been considered, then you can proceed and issue an unconditional offer of employment. The exception would be if the applicant is on the children's and/or adults' barred list(s) and has applied to work in regulated activity1. In these circumstances, it would be illegal for the organisation to allow the applicant to engage in a regulated activity with children and/or adults.

If a DBS check reveals a conviction or caution that you weren't expecting or that the applicant had not previously disclosed and that is relevant to the role, then further consideration will be necessary to ascertain whether you can offer employment, using the following steps.

 

The following discussion points will help you gather further background information to a conviction or caution. It may not be necessary to ask each of these points directly however they may help facilitate a two-way discussion.

The relevance of any offence(s) to the post in question

.  The

DBS eligibility tool

may help you understand the eligibility of a post against criminal record checks. Violent offences without sufficient explanations and context may raise concerns for colleagues and patients in an NHS setting. 


 

The length of time since the offence(s), and any evidence to indicate that the candidate has subsequently changed behaviours or learned from the experience.




You may be able to obtain supporting evidence from specialist agencies such as the probation service and any other work/volunteering organisations. 


 

The age of the candidate at the time of the offence(s).


 

The frequency of offending

.
Is it one out of character offence as opposed to a pattern of multiple offences? 
 

The context surrounding the offence(s). 




A number of factors can mean someone is more likely to have a history with the criminal justice system, such as instability in home life or addiction issues. It's therefore also important to consider if circumstances have changed since the last offence, making reoffending less likely.


 

The severity of any offence(s).




Some offences may appear serious and what comes under each offence 'title' could vary. Drug offences for instance, could range from a small possession offence to intent to supply large quantities. 

Talking about past offences is likely to be difficult for applicants. It is important that there is an opportunity for them to provide more information about the circumstances and context surrounding any information they may have declared, or that has been highlighted in a DBS check. Employers may wish to consider the following when talking to the applicant. 

Focus on asking the applicant about positive changes since the offending behaviour. Encourage them to discuss their talents, qualifications, skills, abilities and experience and compare these with the requirements of the job description and person specification. 

Reassure the applicant of your organisation's values around promoting equal and fair opportunities for all. Explain that the focus of any discussion is to allow you to gain further information to identify whether or not there might be risks that need to be given further consideration.

Hold any discussion in a confidential space where you can ensure the conversation won't be interrupted. You should also try to create an informal setting to help make the applicant feel more comfortable.

Where possible, ensure the same group of people involved in the recruitment process are involved in the discussion, to reduce potential variation in outcome and maintain confidentiality. However, it may be helpful for the discussion to involve someone who is qualified and proficient in the role being recruited to, so that they can help you understand any risks that might need to be mitigated. In this case, it is important to reinforce the need for confidentiality. 

Ensure there is chance for the candidate to ask further questions about the purpose of the conversation and the role itself.

Once you have enough information to inform your final recruitment decision, close the conversation and give the applicant a named contact who they will be able to contact with any further questions or any further useful information that might not have been discussed.

Try to ensure that the named contact informs the applicant of the final recruitment decision in a timely manner. 

Risk assessment templates can help when assessing whether a candidate will pose a risk to the organisation and to ensure a consistent approach is used. Nacro, a national social justice charity, offer a risk assessment template which can be found on page 48 of their Recruiting Fairly and Safely Guide. 


Be aware of data protection obligations for storing any outputs from the discussions and do not keep criminal offence data longer than it is needed for. The DBS recommends that disclosure certificates should be destroyed after a suitable period has passed – usually no longer than six months.

The following links provide further information and employer support for recruiting ex-offenders:

NHS Employers' criminal record check standard

.

This standard outlines the legal requirements when considering applicants who are eligible for a criminal record check. 

NHS Employers inclusive recruitment podcast

episode one

and

episode two

.

In this podcast series NHS Employers explores the positive and negative experiences of applying for roles with a criminal record, the link between employment and reoffending and the inclusive approaches to recruitment taking place in the NHS.

Nacro – recruiting safely and fairly guide

. This guide from Nacro, a national social justice charity, provides practical support to employers when hiring ex-offenders.

Nacro – support for employers web page

. This web page provides guidance on when and how to carry out criminal records checks on prospective and current employees.