Article
Enhancing staff experience in the NHS conference
Information and resources from our Regroup, reflect, recharge: Enhancing staff experience in the NHS conference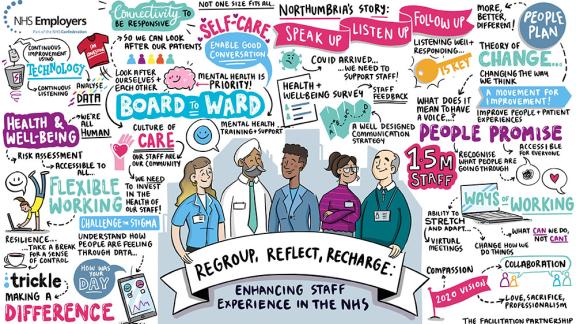 On 10 March 2021, we held our first virtual staff experience conference to provide NHS professionals with an opportunity to regroup, reflect and recharge after a difficult year.
The agenda showcased NHS trusts that highlighted examples of good practice and featured keynote speakers who are leaders in their field.
The conference was our biggest event to date, with nearly 500 delegates, and enabled NHS staff in health and wellbeing, staff engagement and staff experience to come together virtually.
Take a look at the hashtag #RechargeNHS for highlights of the day and watch our conference highlight video.
Highlights from the day
Our amazing chair Yetunde Hofmann kick started the day with lots of energy and enthusiasm, grounding attendees to take the opportunity to regroup, reflect and recharge throughout the event.
Helen Whatley, minister for social care, gave a message of thanks to attendees for their continued efforts and important work to support staff experience during the pandemic.
Calderdale and Huddersfield NHS Foundation trust and East Sussex Healthcare NHS Trust shared how they have created a culture where staff experience is everyone's business and more importantly how this is championed from board to ward. View our visual summary of the panel discussion.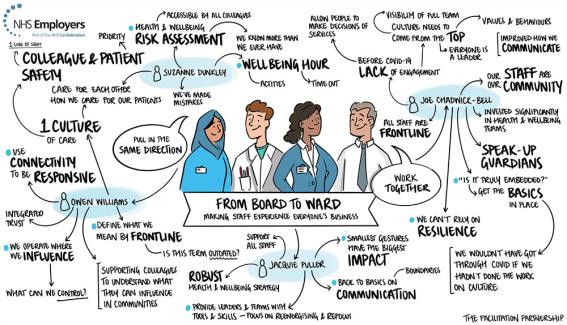 World-leading scientist Peter Senge explained how systems thinking principles can be applied in the NHS and reinforced that wellbeing is built on the 'climate and culture of an organisation, sharing a common purpose, collaborating across boundaries, and working in a way that reinforces that sense of purpose'. Our visual summary below that captures Peter's session.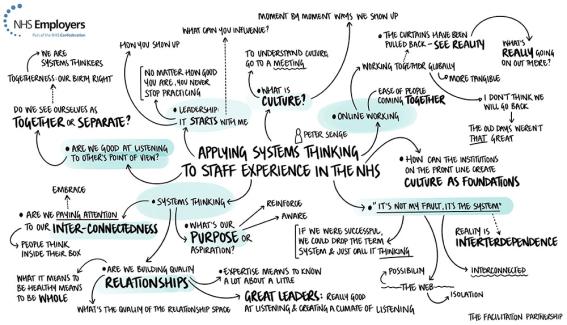 Author of 'Joy at Work' Bruce Daisly, reminded us that we can wrestle back control from too many video calls and use our energy intentionally by, drawing work-life boundaries, reducing the amount of weekly meeting and switch meetings to phone calls.
Annie Laverty from Northumbria NHS Foundation trust shared how they radically changed their approach to staff experience by creating an online platform to ask staff how they were feeling, enabled them to develop and tailor local, regional, and national support for staff wellbeing. View the visual summary of Northumbria NHS Foundation trust's approach to support staff experience.
Jen Gardner, staff experience assistant director at NHS Employers, and John Drew, staff experience and engagement director at NHS England and NHS Improvement, discussed how employers can put the NHS People Promise into practice. They reminding us that long term support to people's health and wellbeing includes changing the culture, a stronger occupational health service, and a continued focus on addressing health inequalities. Diverse teams deliver better outcomes.
Kate Jarman, co-founder of @FlexNHS, facilitated a workshop alongside Jane Galloway and Melanie Whitfield from NHS England and NHS Improvement, and discussed how the pandemic catalysed flexible working across the NHS workforce involuntarily. Attendees explored what this means for the future of flexible working and how best to put the NHS People Plan commitments into practice. See a visual summary of the workshop discussion.

Our 'Pausing for thought - the impact of COVID-19 on our ways of working' breakout session sparked conversation about what ways of working we would like to take forward from the pandemic and leave behind. Take a look at the visual summary of the conversation.

Nancy Heys and Joanne Smithson, from the Centre of What Works Wellbeing, hosted a breakout session focusing on how to assess the success of a health and wellbeing strategy or intervention and the tools that can be used to demonstrate impact and show a return on investment. Take a look at the visual summary of the informative session.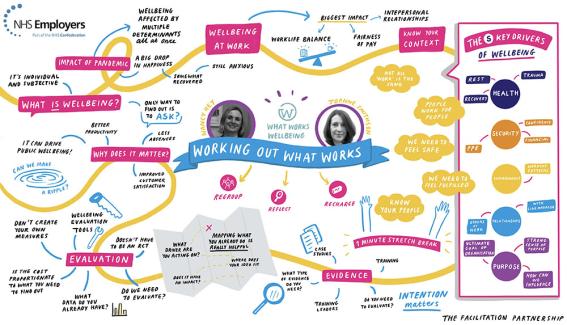 We heard experts from Guy's and St. Thomas' NHS Foundation trust discuss the long term psychological impact of COVID-19 on our NHS staff, and how best to support them going forwards. See the visual summary of top tips and key principles to implement in your organisation.

The original fitness legend Mr Motivator injected fun into the day and got attendees energised with his iconic workouts and inspirational talk.
Don Berwick, President Emeritus and Senior Fellow of the Kings Fund commented on the importance of leaders in creating cultures that enable staff to seek support: "The healthcare workforce is subjected to a lot of psychological distress. They need psychological help and it's not weakness, an embarrassment or a defect. It's humanity and a leader that knows that is going to make sure that people have access to the help when they need it without any sense of shame, embarrassment or failure or weakness. It's being a human being"
Thank you to The Facilitation Partnership for capturing the event in the form of unique graphics. We would also like to thank our event partner Mental Health First Aid England for supporting the conference.
Adapting and innovating during COVID-19
We have collated key learning and insights based on examples of adaptation and innovation showcased by NHS trusts during the COVID-19 pandemic. The information and resources can be used to help strengthen local approaches within organisations to ultimately enhance staff experience.