Article
Improving diversity in recruitment practices in the NHS
A summary of key findings from the report Attracting Supporting and Retaining a Diverse NHS Workforce, with actions for employers.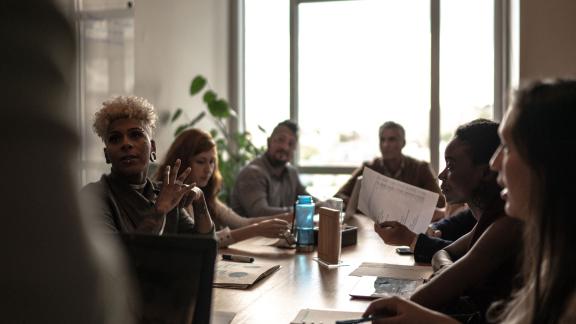 Our new report with the Nuffield Trust, Attracting Supporting and Retaining a Diverse NHS Workforce, highlights the urgent need to improve the experience of all parts of the health service's workforce.
We have pulled together a summary of the key findings, current issues and actions for employers on our website. These reinforce the importance of the actions outlined in the NHS England People Plan, and also complement the collective efforts of employers, especially with regard to anti-racism strategies. 
Employers can use this report and summary to take further action to achieve equity of opportunity and experience for all parts of the workforce. This is one of the central pillars of addressing the supply and retention challenge in the NHS, and a central part of improving patient outcomes. 
For examples of anti-racism strategies read the East of England's anti racism strategy and the NHS London workforce race strategy.
Improving diversity and inclusion in the workplace can have a positive impact on an individual's overall health and wellbeing, reduce health inequalities and improve patient outcomes. It is a key priority for employers in the NHS People Plan.
Current issues
Funding for supporting diversity and inclusion initiatives is inconsistent across the NHS.

The responsibilities of an equality and diversity manager are wide ranging.

The diversity data is limited in some areas, for example, sexual orientation, beliefs, marriage and civil partnership.

Initiatives are not routinely evaluated to measure the impact and so sharing of good practice is minimal.

Inclusive networks can lack support and direction.
What can my organisation do?
Make inclusion a key part of the board's strategy and ensure values and behaviours are role modelled throughout your organisation.

As an integrated care system (ICS), can you pool resources/budgets to make improvements across your system?

Think about the language you use and be clear about the positive action you are taking to address inequalities in your organisation/system.

Ensure vacancies are advertised throughout your local community to increase applications from a wide range of your local population.

Provide equality impact assessments and cultural awareness training for all staff.

Have diverse recruitment panels and ensure recruiters have the necessary diversity and inclusion training.

Review your job descriptions and person specifications to ensure there are no equality or cultural barriers.

Support inclusive networks to demonstrate that diversity is valued in your organisation and use the networks to support your aims.

Improve data and analyse information to see where you can make improvements.

Focus on one or two things at a time to ensure you can make clear improvements and meet your targets.
Download the Attracting, Supporting and Retaining a Diverse NHS Workforce report.