Article
Menopause and the workplace
Information on how menopause can affect people at work, and practical guidance for employers on how to improve workplace environments for them.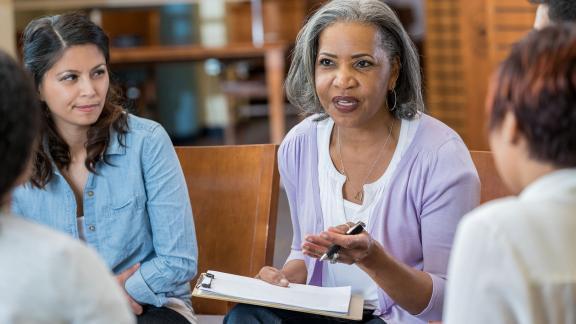 The menopause is a natural part of ageing that usually occurs between 45 and 55 years of age as oestrogen levels decline. Studies have shown that menopause symptoms can have a significant impact on attendance and performance in the workplace. 
With our population now living longer, working longer, and with so many people working in the NHS, it's vital that staff are supported to stay well and thrive in the workplace.

Menopause is not just a gender or age issue, as it can impact on colleagues both directly or indirectly, and it should therefore be considered as an organisational issue. All managers need to know about it, and how they can support their staff. Managers should also be aware of the indirect effects of the menopause on people such as spouses, significant others, and close family members/friends of individuals going through the menopause. The transition can put additional pressures and changes on relationships, it is therefore important managers signpost to appropriate support channels.
Awareness on this topic is fundamental and reducing the stigma attached to it is vital so that more people will talk openly about it and the menopause can begin to be normalised.
Why do we need to know about the menopause?
There are 3.5 million women over 50 in the workplace in the UK.

Women make up

77 per cent of the 1.3 million people

of the NHS workforce.

In the UK, the average age for a person to go through menopause is 51.

Symptoms of the menopause can last up to 10 years.

Symptoms range from cognitive, physical and psychological symptoms (for example hot flushes, muscular aches, poor concentration, anxiety and headaches).

Around one in 100 people that experience the menopause, will go through the transition before age of 40.

Three out of four people experience symptoms: one in four can experience severe symptoms, which impact on their day-today life.
If your organisation has any helpful resources on menopause and the workplace, please email healthandwellbeing@nhsemployers.org.