Article
Refugee healthcare professionals
NHS Employers is working with the Department of Health and Social Care and charities to support the recruitment of skilled healthcare refugees.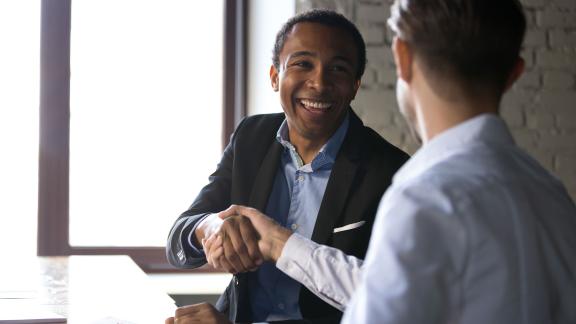 NHS Employers is working closely with the Department of Health and Social Care (DHSC) and non-government organisations (NGOs) to help place skilled refugee nurses from both outside of the UK and within, back into employment.
Over the past year, we have been exploring workforce shortages with provider organisations to match opportunities to a number of nurses currently in Lebanon and Jordan. Through connecting with Talent Beyond Boundaries, we have carried out a selection exercise and identified a small cohort of trusts to take part in a financially supported pilot which started in April 2021. We are currently discussing the viability of the pilot with the four trusts selected and more information will be available in due course. 
The pilot will initially focus on supporting 40 refugee nurses transition to the UK and if successful, it could lead to a scalable ongoing workforce supply pipeline. The pilot was nominated for the Healthcare Recruitment Health Business Award in December 2020. 
NHS Employers is also engaging with RefuAid who have a number of skilled healthcare professionals here in the UK who are actively seeking employment in the NHS. This May 2021 BBC article highlights how the first two cohorts to Liverpool Heart and Chest Hospital NHS Foundation Trust were fast-tracked by a four-week residential pilot course. Usually, refugees are not able to work in the UK while their application is being processed, but this programme enables them to be assessed and supported to find appropriate placements.
RefuAid with Liverpool John Moores University, and NHS England and NHS Improvement recently won the Gold Award for Community Partnership Working at the Global Good Awards in recognition of its work to support refugee nurses with the process of becoming registered nurses in the UK and gaining employment commensurate with their skills and experiences. After a successful initial pilot of 14, a second cohort of 20 nurses has now begun. 
If you are interested in discussing your current vacancies with RefuAid, please get in touch with Victoria.Hage@nhsemployers.org. 
Information about regional work to support refugees 
Reache North West was set up to assist refugee and asylum seeking healthcare professionals in the North West to register their qualification in the UK. So far they have helped 224 healthcare professionals to secure roles. Based at Salford Royal NHS Foundation Trust, it provides advice and guidance, job search support, PLAB courses, support in finding supervised practise/adaptation and access to resources.
Sandwell and West Birmingham NHS Trust is helping to assist skilled refugees into NHS roles through the healthcare overseas professionals (HOP) programme.
The Building Bridges programme, run by the Refugee Council  is a NHS funded partnership for refugee health professionals living in London. The Refugee Council assist refugee doctors to re-qualify to UK standards and secure employment appropriate to their professional qualifications.
Best practice
NHS Employers has produced the following materials to support NHS trusts in employing refugee healthcare professionals.
Employing refugee healthcare professionals
The employment of refugee healthcare professionals has many benefits for employers and helps NHS organisations to meet their requirements in a number of areas, including workforce supply, equality and diversity and corporate social responsibility.
A refugee is a person who has had a positive decision on their claim for asylum under the 1951 United Nations Convention Relating to the Status of Refugees (the Refugee Convention) and has been granted leave to remain in the UK. Refugees are forced to leave their countries due to fear of persecution, often as a result of direct state action.
Refugees should be considered differently to economic migrants.
The UK government recently launched a Displaced Talent Mobility Pilot in collaboration with Talent Beyond Boundaries. Over the next one to two years, the pilot will aim to identify and address the administrative and legal barriers that refugees and other forcibly displaced job seekers face when seeking to move internationally as skilled workers. The pilot will have dedicated support and priority processing to Talent Beyond Boundaries candidates working in a variety of critical fields including IT, construction and engineering and will be placed via the Skilled Worker route.
Skilled refugees recruited in health and social care will continue to be recruited through the Health and Care Visa route of the points-based immigration system, where migrants are required to meet a particular level of skills and experience and employers are given sponsorship duties.
Refugees are able to work in the UK without any restrictions, and are legally protected from discrimination.
Guidance for employers on preventing illegal working, asylum seekers and refugees can be found on the UK Visas and Immigration website. The Refugee Council and the Equality and Human Rights Commission have also produced the Employing Refugees guide which provides employers with important information about employing a refugee and what documents need to be checked to demonstrate their entitlement to work in the UK. 
Our frequently asked questions page provides more information on how to appoint refugees if they can not display all the documents as required in the employment check standards.