Article
Refugee healthcare professionals
NHS Employers is working with the Department of Health and Social Care and charities to support the recruitment of skilled healthcare refugees.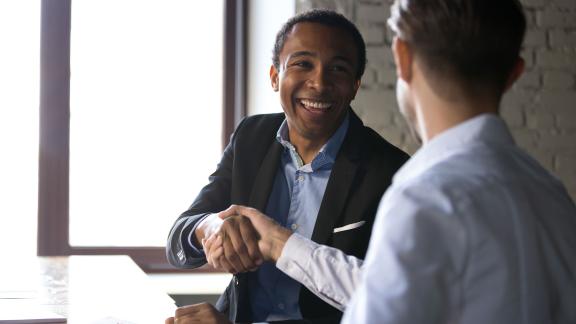 NHS Employers works closely with the Department of Health and Social Care (DHSC) and non-government organisations (NGOs) to help place skilled refugee nurses from both outside of the UK and within, back into employment. 
With the ongoing crisis in Ukraine, we know employers will want to do anything they can to provide support. As the situation with Ukrainian refugees coming to the UK develops each day, we continue to work with partners to determine next steps and will keep employers informed as this develops. Below is some key information and top tips on how employers can work together and actions that can be taken now. 
Important points
Alongside housing, employment is the second principal of a refugee.

Refugees can work in the UK without any restrictions. In common with other employees in the UK, refugees are covered by the Equality Act 2010 and the Human Rights Act 1998.

Most refugees were working before they arrived in the UK and have backgrounds in a wide variety of roles, from skilled trades to managers and senior officials. Research shows that refugees are highly motivated to find employment in the UK and to make a positive contribution at work.
Things to do as an employer that wishes to support refugees
Supporting employment and teams 
The

Homes for Ukraine

scheme allows individuals, charities, community groups and businesses in the UK to bring Ukrainians to safety including those with no family ties. Phase one of the scheme (which opened on 18 March 2022) allows sponsors in the UK to nominate a named Ukrainian or named Ukrainian family to stay with them in their home or in a separate property. Guidance is also available for UK Visa support for Ukrainian nationals.
The Ukraine Extension Scheme visa allows individuals to live, work and study in the UK if they're Ukrainian, or the family member of someone who is Ukrainian. They can apply to this scheme if they hold any valid UK visa, or held one that expired on or after 1 January 2022. This route does not currently lead to settlement – meaning that individuals may not be able to count any time spend in the UK with this visa as part of an application for indefinite leave to remain in the UK in future

Support programmes exist for other refugees, such as the

Afghan citizens resettlement scheme

.

If the refugee

cannot display all the documents as detailed in the employment check standards,

check online guidance such as

the

employing refugees

 guide

and

the

employment checks 

frequently asked questions page

for guidance on how to appoint refugees. 

This has been updated to include support in obtaining criminal record checks for Ukrainian nationals.  

Asking senior management to explain to staff the rationale behind hiring refugees is essential.

Offer training to both supervisors and staff on how they can support refugees.
Partnership working and engagement
Work closely with your

local authorities

(including

strategic migration partnerships

), chambers of commerce and employer associations to identify and maximise suitable work opportunities for refugees. Reach out to local NHS partners

or colleagues across a system when connecting with local authorities and to strategic migration partnerships.

Reach out to refugees by going beyond the traditional forms of recruitment, for example, by contacting relevant civil society organisations

Refuaid

or the

Refugee Council

.

Investigate what regional projects are happening in your local area, such as Reache Northwest or

 

Building Bridges

.

Speak to any refugees that may currently work for you and ask them what was helpful for them.
Pastoral care
Consider the specific pastoral care requirements of refugees. Have discussions with individuals, as their unique needs may be different than traditional economic migrants.

Provide staff with opportunities to get involved, for example, introducing mentorship or buddy schemes between refugees and employees.

Put refugees in contact with co-workers to facilitate social integration or carpools. 

Ensure links are available to local community groups for refugees, other diaspora groups, and resources from the Home Office such as their

welcome guide for new refugees

.
Training and development
Provide incoming refugees with clear information on company policies and work habits. 

Language requirements are usually the biggest barrier for refugees to join the NHS. Consider how you will provide additional support in this area, such as seeking funding from local authorities or working with other local partners.

Provide short-term internships or apprenticeships to enable refugees to obtain recommendations and references.
Employing refugee healthcare professionals
The employment of refugee healthcare professionals has many benefits for employers and helps NHS organisations to meet their requirements in a number of areas, including workforce supply, equality and diversity and corporate social responsibility.
In July 2021, the UK government launched a Displaced Talent Mobility Pilot in collaboration with Talent Beyond Boundaries. The aim of the pilot was to identify and address the administrative and legal barriers that refugees and other forcibly displaced job seekers face when seeking to move internationally as skilled workers. The pilot has provided dedicated support and priority processing to Talent Beyond Boundaries candidates who have been looking to work in a variety of critical fields including IT, construction and engineering, placed via the Skilled Worker route.
Skilled refugees recruited into health and social care will continue to be recruited through the Health and Care Visa route of the points-based immigration system, where migrants are required to meet a particular level of skills and experience and employers are given sponsorship duties.
The British Medical Association (BMA) has produced a webpage to support refugee doctors which covers the three stages the individual would need to do in order to become a Doctor in the UK. There is also support on the BMA refugee doctor initiative, which is free and provides support to allow doctors to get their licence to practice in the UK. There are about 900 doctors on the initiative at any one time. The BMA has also produced a Refugee and asylum seeker patient health toolkit which provides guidance on the legal, ethical and practical considerations which need to take into account when treating a patient who is a refugee or asylum seeker.
Information about regional work to support refugees 
Sandwell and West Birmingham NHS Trust is helping to assist skilled refugees into NHS roles through the healthcare overseas professionals (HOP) programme.
The Building Bridges programme, run by the Refugee Council is a NHS funded partnership for refugee health professionals living in London. The Refugee Council assist refugee doctors to re-qualify to UK standards and secure employment appropriate to their professional qualifications.
REACHE Northwest is funded NHS Health Education North West and has been set up to assist 

Refugee and asylum seeking Healthcare Professionals (RHPs) to register their qualifications in the UK and to assist RHPs who have permission to work in finding employment in the NHS.
Best practice
NHS Employers has produced the following materials to support NHS trusts in employing refugee healthcare professionals.
Sandwell and West Birmingham Hospitals NHS Trust sits in the second most-deprived area of England, with low-quality housing, a transient community, and poor levels of education. The trust ran a number of widening participation initiatives, supporting people from the local refugee and migrant population to return to a career in healthcare, they have also engaged with young people and ex-offenders. 

Leeds Teaching Hospitals NHS Trust

 was

invited to participate in

the charity Growing Points'

 Hidden Talents initiative, aimed at helping people from disadvantaged backgrounds, principally refugees and asylum seekers, into work. The initiative was a great success and positively impacted both the trust and local community. 
By working with partners including NHSE and DHSC, NHS Employers has been supporting the employment of in-country refugees with RefuAid, and refugees from Lebanon and Jordan with Talent Beyond Boundaries.

From April 2021 to August 2022, NHS Employers worked with Talent Beyond Boundaries (TBB) on a pilot to support the employment of skilled refugee healthcare professionals from Lebanon and Jordan directly with NHS trusts. The pilot focused on supporting 40 refugee nurses transition to the UK, with the potential to lead to a scalable ongoing workforce supply pipeline. Candidates were recruited via the health care assistant to registered general nurse pathway. TBB supported the process by generating a talent catalogue, shortlisting and interviewing candidates, and working with trusts while candidates moved towards their NMC registration.

NHS Employers has also been engaging with RefuAid, an organisation set up as a charitable fund to provide a practical response to forced migration. RefuAid has been supporting a number of skilled healthcare professionals here in the UK who are actively seeking employment in the NHS. This May 2021 BBC article highlights how the first two cohorts to Liverpool Heart and Chest Hospital NHS Foundation Trust were fast-tracked by a four-week residential pilot course. Usually, refugees are not able to work in the UK while their application is being processed, but this programme enabled them to be assessed and supported to find appropriate placements.

RefuAid, Liverpool John Moores University, and NHS England recently won the Gold Award for Community Partnership Working at the Global Good Awards in recognition of its work to support refugee nurses become registered nurses in the UK.

To date, Over 110 refugees have been supported into nursing and healthcare assistant roles, and a recent nurse support programme celebration and learning event showcased the programme's work so far. Employing refugees in the NHS was also featured in a BBC Morning Live piece. 

If you are interested in discussing your current vacancies with RefuAid, please get in touch with internationalrecruitment@nhsconfed.org.
Guidance for employers on preventing illegal working, asylum seekers and refugees can be found on the UK Visas and Immigration website. The Refugee Council and the Equality and Human Rights Commission have also produced the Employing Refugees guide which provides employers with important information about employing a refugee and what documents need to be checked to demonstrate their entitlement to work in the UK. 
Our frequently asked questions page provides more information on how to appoint refugees if they cannot display all the documents as required in the employment check standards.