Article
Supporting disabled staff in the workplace
Find out about the different types of disability and what the NHS is doing to support its disabled workforce.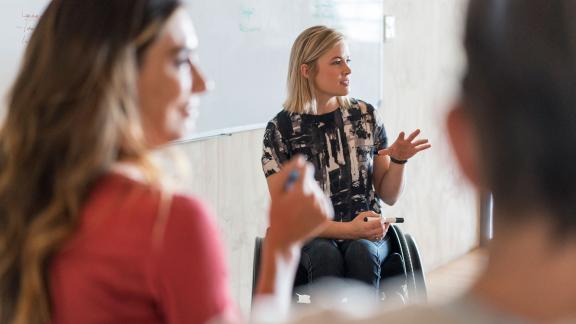 A disability is a condition that effects an individual's ability to carry out normal day-to-day activities. It can be a mental health or physical condition, visible or hidden, it can last 12 months or longer, and be recurring. Access our disability infographic, invisible disabilities video, learn about the Workforce Disability Equality Standard and read guidance to help you improve the experiences of disabled staff in the workplace.
In the UK, 1 in 5 people have a disability, 80 per cent of which have a hidden disability. 
Our understanding disability infographic provides an explanation of what a disability is, some of the associated health conditions and key statistics. It also includes a list of actions for organisations and managers which can help address some of the barriers that disabled staff may experience in the workplace.
Not all disabilities are visible: some are not obvious and can make everyday life demanding for so many people. Hidden disabilities are a wide range of physical and mental conditions that range from a speech impediment, reduced sight, bipolar, chronic fatigue syndrome, colitis, autism, depression, and many others. Watch this short video to learn more.
Supporting disabled staff during COVID-19 - what we learned from shielding
During the pandemic, isolation, disconnect, disrupted routines both at home and in the workplace and diminished services have greatly impacted the lives and mental wellbeing of people with disabilities.
Our new podcast shares experiences of NHS staff who were shielding during the COVID-19 pandemic, learn about the adjustments they received and how this improved their wellbeing.