Article
Supporting disabled staff in the workplace
Find out about the different types of disability and what the NHS is doing to support it's disabled workforce.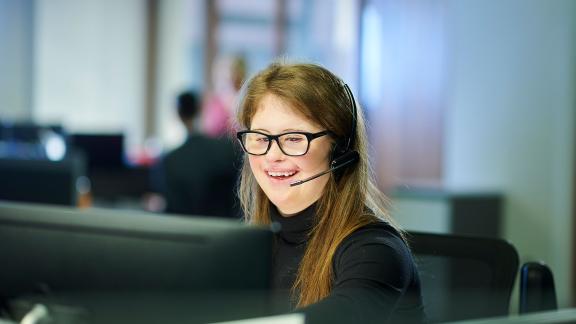 A disability is a condition that effects an individual's ability to carry out normal day-to-day activities. It can be a mental health or physical condition, visible or hidden, it can last 12 months or longer, and be recurring. Access our disability infographic, invisible disabilities video, learn about the Workforce Disability Equality Standard and read guidance to help you improve the experiences of disabled staff in the workplace.
In the UK, 1 in 5 people have a disability, 80 per cent of which have a hidden disability. 
Our Understanding disability infographic provides an explanation of what a disability is, some of the associated health conditions and key statistics. It also includes a list of actions for organisations and managers which can help address some of the barriers that disabled staff may experience in the workplace.
Not all disabilities are visible - some are not obvious and can make everyday life demanding for so many people. Hidden disabilities are a wide range of physical and mental conditions that range from a speech impediment, reduced sight, bipolar, chronic fatigue syndrome, colitis, autism, depression, and many others. Watch this short video to learn more.
NHS Workforce Disability Equality Standard
In April 2019, the WDES was implemented to help foster a better understanding of the issues faced by disabled staff and the inequalities they experience, compared to non-disabled colleagues. NHS trusts are required to report each year and publish a WDES annual report containing their data, and action plan.

Since the introduction of the WDES there is an increasing focus on how NHS employers can improve the career and workplace experiences of disabled staff.

Learn more about the WDES and access our suite of resources which include videos, blogs, case studies, webinar recordings and guidance.  
Disability Summit 29 September 2021 - bookings open
In collaboration with NHS England and NHS Improvement, we are hosting a Disability Summit on 29 September 2021. The event will explore how to create workplaces for the future where disabled staff feel like they belong.

The Summit will be held virtually and provide a space where staff with disabilities, leaders, managers, trade unions, HR and equality practitioners from across the health and social care sector will share their experiences of disability in the workplace. Access further information and book your place.
Health passports and reasonable adjustments
Employers may want to consider introducing a disability or health passport which allows individuals to easily record information about their condition, any reasonable adjustments they may have in place and any difficulties they face.

The passport helps to ensure there is a clear record and can be used with new line managers to explain what is needed in the workplace to help them carry out their role.

It's also worthwhile using the support that your local occupational health team can offer to help improve staff wellbeing within your organisation.
We have also developed guidance around making reasonable adjustments in the workplace to help disabled staff carry out their roles and improve their working experiences.