Article
Supporting disabled staff in the workplace
Find out about the different types of disability and what the NHS is doing to support it's disabled workforce.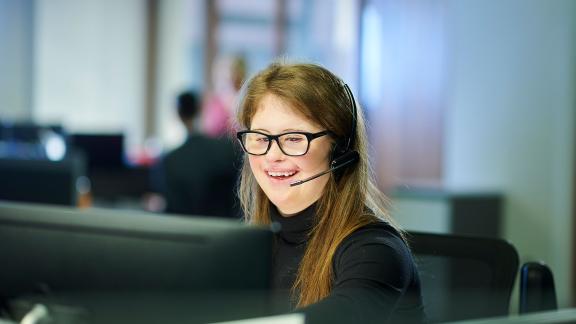 A disability is a condition that effects an individual's ability to carry out normal day-to-day activities. It can be a mental health or physical condition, visible or hidden, it can last 12 months or longer, and be recurring. Access our disability infographic, invisible disabilities video, learn about the Workforce Disability Equality Standard and read guidance to help you improve the experiences of disabled staff in the workplace.
In the UK, 1 in 5 people have a disability, 80 per cent of which have a hidden disability. 
Our understanding disability infographic provides an explanation of what a disability is, some of the associated health conditions and key statistics. It also includes a list of actions for organisations and managers which can help address some of the barriers that disabled staff may experience in the workplace.
Not all disabilities are visible: some are not obvious and can make everyday life demanding for so many people. Hidden disabilities are a wide range of physical and mental conditions that range from a speech impediment, reduced sight, bipolar, chronic fatigue syndrome, colitis, autism, depression, and many others. Watch this short video to learn more.
NHS Workforce Disability Equality Standard
In April 2019, the WDES was implemented to help foster a better understanding of the issues faced by disabled staff and the inequalities they experience, compared to non-disabled colleagues. NHS trusts are required to report each year and publish a WDES annual report containing their data, and action plan.

Since the introduction of the WDES there is an increasing focus on how NHS employers can improve the career and workplace experiences of disabled staff.

Learn more about the WDES and access our suite of resources which include videos, blogs, case studies, webinar recordings and guidance.  
Disability Summit 29 September 2021 - bookings open
In collaboration with NHS England and NHS Improvement, we are hosting a Disability Summit on 29 September 2021. The event will explore how to create workplaces for the future where disabled staff feel like they belong.

The Summit will be held virtually and provide a space where staff with disabilities, leaders, managers, trade unions, HR and equality practitioners from across the health and social care sector will share their experiences of disability in the workplace. Access further information and book your place.
Health passports allow individuals to record details about their disability, health condition or learning disability.

Over the last few years diverse health passports have been developed by NHS trusts to allow disabled staff in agreement with their line managers to record and share the details of the reasonable adjustments they need at work. In addition, to enable safe and rapid staff movements between NHS organisations.

One example is the editable health passport developed by NHS Employers for individuals working in the NHS with a disability, long term health condition, mental health issue or learning disability/difficulty.

It allows individuals to easily record information about their condition, any reasonable adjustments they may have in place and any difficulties they face.

The passport helps to ensure there is a clear record and can be used with new line managers to explain what is needed in the workplace to help them carry out their role.

The health passport pdf is editable, you can type straight into the boxes and then save it to your internal system and includes accompanying guidance for managers.  

Other examples of

workforce health passports

Blackpool Teaching Hospital

This passport covers disability or health condition, the working environment and the impact on job role and responsibilities.

Portsmouth Hospitals University

This portable document is designed to allow individuals to easily record information about their condition(s) and any reasonable adjustments they may have in place and/or any challenges they might face in the workplace. This live document can be reviewed and adjusted if the employees needs or job role changes within the organisation.

Kent Community Health NHS Foundation Trust

Their work and health being passport provides a record of an individual's needs. For example: a member of staff with a disability or long-term condition; those who have caring responsibilities for a relative with a disability or long-term condition; parents with young children; staff who observe religious festivals or celebrations such as Ramadan or daily prayers; staff who are in the process of gender reassignment.

Find out more about supporting disabled staff in the workplace and access resources to help embed the Workforce Disability Equality Standard.

Employers have a legal responsibility to make workplace adjustments for disabled staff or those with long-term health conditions.

We have developed guidance around making reasonable adjustments in the workplace to help employers better understand the legal requirements, and how to support disabled staff in their roles and improve their working experiences. This guidance includes practical examples, links to resources and videos.

Access to Work is a publicly funded employment support programme that aims to help more disabled people start or stay in work. It can provide practical and financial support for people who have a disability or long term physical or mental health condition.

The scheme which reimburses individuals for adjustments which are more specialised or may not have been reasonable in the circumstances and cost up to asset value per year.

Access to Work cannot pay for reasonable adjustments which should be provided by the employer. Visit Access to Work for further information.

Take a look our guidance how to recruit and support disabled staff in the NHS to watch videos on making adjustments in the workplace, and for further information on:

Understanding your local community and your workforce.
Ensuring your recruitment and assessment processes are inclusive and accessible.
Helping to ensure your organisation is visible and attractive to disabled applicants.
Embedding and maintaining the highest quality workplace support for disabled staff.
Understanding complex areas such as positive action and reasonable adjustments.