Conference
Disability Summit 2023: Lead the change
Our annual Disability Summit took place virtually on 29-30 November 2023.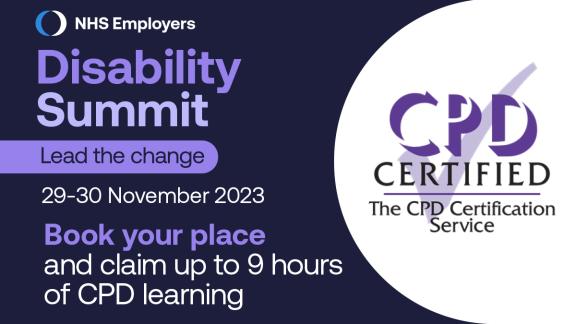 Our annual Disability Summit took place during Disability History Month. The event was held virtually over two days and supported those working across the health and care sector to lead the change and tackle inequality. There were:
Over 40 expert speakers.
10 breakout sessions covering specialist topics.  
9 hours of CPD learning.
Access session recordings for 30 days post-event.
Using five of the high impact actions from the NHS England Equality, Diversity and Inclusion Improvement Plan, the summit showcased good practice around addressing pay gaps, embedding inclusive recruitment and talent management strategies, addressing health inequalities in the workforce and creating a psychological safe working environment.   
The summit shared insights on how to increase workforce representation at senior levels and the business case for supporting disabled staff in the workplace. 
There was a diverse range of speakers from both within and outside of health and care, including those who have personal lived experiences of disability:

Co-chairs

Kate Headley is chair of the Recruitment Industry Disability Initiative and executive director of The Clear Company. She has been advising organisations on diversity and inclusive talent management for over 20 years. She has featured in the Disability Power 100 list in 2020 and 2021.
Rose Gayle is the co-chair of the Ability not Disability Network at Barking, Havering & Redbridge Hospitals NHS Trust, Calibre disability leader for disabled staff and, in recognition of her activism, she won enei (Employers Network for Equality and Inclusion) Influencer 2022. 
Jamie Shields is

a self-described registered blind ADHD rhino. He currently works to drive inclusive and accessible change for a large global recruitment firm, is an award-winning disability employee resource group lead and runs his own 'side hustle'

Disabled by Society

.

Mary Lavender a highly specialist speech and language therapist in Cumbria Northumberland Tyne and Wear NHS Trust. She is autistic and has a limb difference. She is chair of the Disabled Staff Network in her NHS trust. She is also involved in various national forums and makes sure the topics of disability and true inclusion are high up on agendas both in health care and business settings.

Speakers

Baroness Tanni Grey-Thompson DBE is one of Britain's greatest Paralympic athletes, achieving 11 gold, 4 silver and a bronze medal. She is a motivational speaker, disability rights advocate and was appointed to the House of Lords in 2010 as an independent crossbench peer.
Libby Clegg MBE is a multiple

Paralympic gold medalist

. Born with a deteriorating eye condition, Libby has not let her disability hinder her dreams. She is renowned for her exceptional speed and determination on the track. Her dedication to her athletics and charity work has earned her the Member of the Order of the British Empire for her outstanding contributions to sport.

Toby Mildon is a Diversity & Inclusion Architect and founder of

Mildon

, a consultancy and advisory business. Toby works with businesses to devise diversity and inclusion strategies, re-engineer processes and systems to minimise the impact of bias and build a culture of inclusion. 

Steve Brine MP is chair of the Health and Social Care Select Committee. He joined the government as Parliamentary Private Secretary (PPS) to the Minister for Disabled People, has been PPS to the Health Secretary and Parliamentary Under Secretary of State at the Department of Health.
Lea Cornthwaite is a professional singer, facilitator and programme lead for The English National Opera (ENO) Breathe programme. The programme has helped patients recover from long-COVID through collaborative working with Imperial College NHS Trust. 
Dr Navina Evans CBE is chief workforce, training and education officer at NHS England. Previously she was chief executive at East London NHS Foundation Trust. Navina uses her voice in support of staff wellbeing and co-production with patients, advocating for the best quality of life.
Kez Hayat is h

ead of equality, diversity and inclusion at Bradford Teaching Hospitals NHS Foundation Trust. He has worked in the field of EDI for over 27 years. His passion, commitment and approach to diversity and inclusion along with his lived experience has enabled him to influence and change perspectives in the workplace.

Claire Cookson is c

hief executive officer of

DFN Project SEARCH

, and DFN Foundation. She leads this fast growing dynamic charity that seeks to support best practice transition to employment for people with a learning disability and or autistic people, both nationally and internationally.

Rob Webster is chief executive of NHS West Yorkshire Integrated Care Board and also lead chief executive for the West Yorkshire Health and Care Partnership. In 2022, the HSJ awarded the partnership the award for ICS of the Year for the second year running. Rob is defined by a values-based approach to leadership.

He has a history of effective partnership working and a strong commitment to system leadership. 

Sally Lawson is the head of inclusion and wellbeing at University Hospitals Birmingham NHS Foundation Trust. An experienced, qualified, human resources professional, Sally works closely with the trust to create a culture that celebrates the importance of having a diverse workforce and commits to supporting the individual needs of staff so that they can thrive in their roles.
Dr. Nasser Siabi OBE is the visionary CEO of Microlink PC (UK) Ltd. Under his leadership, Microlink spearheaded a groundbreaking collaboration with Lloyds Banking Group in 2008, resulting in the development of an end-to-end workplace adjustment service. This award-winning initiative has set the standard for best practices and is widely adopted, benefiting over 34 leading organisations in the UK and US. By making thousands of workplaces accessible and inclusive, Nasser's efforts have transformed lives.
Tracey Abbott is an access consultant at Microlink PC (UK) Ltd.  She has 33 years of IT recruitment experience, 13 specifically in making recruitment barrier free for people with disabilities or long-term health conditions. There is not a lot Tracey doesn't know about finding and keeping talent.  Fifteen years ago, she was involved in a car crash that left her with several non-visible health conditions and her life changed. Tracey has been working to help companies find the 'hidden' talent pools.  

10:00 - 10:15  Introduction and welcome 

Rose Gayle, Disability Summit co-chair and co-chair, Ability not Disability Network, Barking, Havering & Redbridge Hospitals NHS Trust
Kate Headley, Disability Summit co-chair and chair, Recruitment Industry Disability Initiative and executive director, The Clear Company.

10:15 - 10:45  Keynote address - Steve Brine MP

We heard from Steve Brine MP about the NHS Long Term Workforce Plan from a perspective of inclusion, recruitment and retention of disabled and neurodiverse talent in NHS.

10:45 - 11:00 Break and online networking

11:00 - 11:30 Keynote address - Baroness Tanni-Grey Thompson

We heard the perspective of a Paralympian and House of Lords Crossbench Peer on Access to Work and the Disability Confident Scheme.

11:30 - 12:35 Breakout sessions

12:35 - 13:05 Lunch and virtual networking

13:05 - 13:10 Welcome back from the co-chairs

13:10 - 14:15 Breakout sessions

14:15 - 14:30 Break and online networking

14:30 - 15:00 Plenary presentations of good practice

Katy Ollerenshaw, Project Assistant, Foundations for Change - using 

the social model of disability as the standard for workplaces across Greater Manchester's health, social care and locality sectors

Kez Hayat, Head of Equality, Diversity & Inclusion, Bradford Teaching Hospitals NHS Foundation Trust - improving the working lives of disabled people at Bradford Hospitals

Sally Lawson, Head of Inclusion and wellbeing at University Hospitals Birmingham NHS Foundation Trust

- improving disability declaration rates at UHB.

15:00 - 15:20 Entertainment

We were joined by the English National Opera (ENO) Breathe Programme to hear about the work they have been doing to support patients recover from long COVID and we took part in a taster session!

15:20 - 15:30 Closing remarks

These sessions showcased some of the positive work that has taken place and good practice that can be taken back to your organisations. 

We have indicated below which sessions included British Sign Language (BSL) interpreter. 

1. Disability data and objectives  (AM BSL)

To tackle inequity, we need robust disability data to create objectives that we can use to tackle the root cause. This data can be both qualitative and quantitative and should underpin all our actions. The NHS Workforce Disability Equality Standard reporting provides an obvious example of how this data can be used to underpin positive action to improve the working experiences of disabled staff, but this session also considered other disability data. 

2. Inclusive recruitment (AM BSL)

Inclusive recruitment practices should be embedded within organisations. Reasonable adjustments should be made at interview stage onwards, unconscious bias mitigated through training and diverse panellists, job specifications should be inclusive and the voices of disabled people should be heard at all stages. We will only begin to improve representation at all job levels if we tackle recruitment.

3. Career progression (AM BSL)

Disabled people have the same career aspirations as their colleagues and therefore deserve the same career and development opportunities. Yet barriers still exist, with the latest Workforce Disability Equality Standard data showing 51 per cent of trusts have five or fewer disabled staff in senior positions. This session looked in more detail at how we can support disabled colleagues to progress their careers.

4. Disability pay gap (PM BSL)

Eliminating the disability pay gap is part of the NHS England EDI Improvement Plan. This session considered what causes the disability pay gap, the metrics to use in your calculations, how to analyse data to understand the gap and the actions that can be taken to close the gap.

5. Assistive technology (PM BSL)

Our event sponsor Microlink, ran these sessions about assistive technology and how it can support disabled people in the workplace. 

AM Breakout - Innovative Approaches to Workforce Resilience in the NHS: Maximizing Employee Wellbeing and Retention

In this insightful presentation, Dr Nasser Siabi, CEO shed light on the imperative need for accessible recruitment practices, emphasising the importance of a seamless transition from education to the workplace, particularly in healthcare professions such as nursing and medicine. Stressing that the tools and support systems that work well in educational institutions might not necessarily translate effectively into the workplace environment. 

PM Breakout - Seamless Onboarding: Nurturing Talent and Fostering Accessibility in the NHS  

Tracey Abbott, access consultant, delved into the pivotal topic of empowering the NHS workforce through strategic workplace adjustments. With emphasis on the urgent need for addressing stress and pressure, the leading causes of employee disengagement, absenteeism, and understaffing. Tracey proposed comprehensive solutions, advocating for a holistic approach that combines preventative solutions with targeted adjustments within the work environment.

10:00 - 10:15 Introduction and welcome

Jamie Shields, Disability Summit co-chair and founder of Disabled by Society

Mary Lavender, Disability Summit co-chair and highly specialist speech and language therapist, Cumbria, Northumberland Tyne and Wear NHS Trust

10:15 - 10:50 Keynote address - Libby Clegg MBE

Libby Clegg, Paralympic sprinter, tandem track cyclist and Dancing on Ice finalist, spoke about sight loss, her incredible sporting journey and the importance of teamwork.

10:50 - 11:10 Break and online networking

11:10 - 11:55 Roundtable discussion - Making the NHS more inclusive for disabled staff

11:55 - 13:00 Breakout sessions

13:00 - 13:30 Lunch and virtual networking

13:30 - 13:35 Welcome back from the co-chairs

13:35 - 14:40 Breakout sessions

14:40 - 15:00 Closing remarks and next steps

15:00 - 15:30 Keynote address - Our workforce are our people

Navina Evans, chief workforce, training and education officer, NHS England

These sessions showcased some of the positive work that has taken place and share good practice that can be taken back to your organisation. These sessions were repeated in the morning and afternoon of day two. 

We have indicated below which sessions included a British Sign Language (BSL) interpreter.

1. Health and wellbeing (AM BSL)

Health and wellbeing are key aspects of everyday life for disabled people. Often, managing health and wellbeing can be an onerous task for disabled staff, with the perception it is their own responsibility to manage their wellbeing. One result of this is demonstrated in higher levels of presenteeism amongst disabled staff. This session considered how employers can support the long-term health of disabled staff, by seeking to actively support staff with their health and wellbeing.

2. Bullying, harassment and discrimination (AM BSL)

In the 2022 Workforce Disability Equality Standard data, one third of disabled staff reported having experienced bullying, harassment or abused from patients, service users or the public. Around a fifth stated experiencing this from managers and one quarter from colleagues. This is substantially higher than for non-disabled colleagues and indicates an issue that needs to be tackled. This session looked at how creating psychologically safe workspaces, free from discrimination, will benefit everyone.

3. Neurodiversity (AM BSL)

A recent study demonstrated that 77 per cent of autistic doctors had considered suicide, with nearly one quarter attempting it. Only 46 per cent had requested adjustments to be made, and only half of those who requested adjustments had them implemented. Neurodivergent individuals have a varied experience working within the health care setting, with some not defining themselves as disabled. This session looked at how to make the workplace into a safe place, where all staff can thrive and have their needs met.

4. Workplace adjustments (PM BSL)

The 2022 Workforce Disability Equality Standard highlighted that the number of disabled staff reporting they received workplace adjustments to perform their duties has reduced to 72.2 per cent. This means more than a third of disabled staff do not have the adjustments they need to perform their role. These adjustments are a requirement under the Equality Act 2010 and prevent a disabled staff member being placed at a disadvantage. During this session we learnt how suitable adjustments can increase productivity, improve staff health and wellbeing and benefit the organisation and employee alike.

5. How MindView supports neurodivergent individuals in the NHS (PM BSL)

Every individual has unique ways of processing, visualising, and organising information. Recognising and embracing our varied approaches to work and problem-solving is essential.

Our supporter MindView by MatchWare is an advanced mind mapping and project management tool that transforms the way we visualise and handle complex information. While it's beneficial for everyone, those with neurodivergence, such as Dyslexia, Autism or ADHD will find its features especially supportive. 

MindView has been selected to feature within several NHS equality, diversity and inclusion improvement plan awards. This session covered the outline of these projects as well as a demonstration of the software.

Senior leaders, managers, occupational health colleagues, trade unions, HR and equality practitioners, disabled staff/students and disabled staff network chairs and anyone else with in an interest in disability working across the health and social care sector. The event was also open to non-NHS organisations. 

The Disability Summit was hosted on a platform called Airmeet. 

All keynote and main stage sessions had captions and a British Sign Language (BSL) interpreter.  

All breakout sessions had captions and had an BSL interpreter in either the morning or afternoon slot (as indicated above in the breakout sessions information). The platform also indicated which sessions have BSL.

Sessions have been recorded on the platform to view for 30 days after the event. Please note BSL is available on the platform, however due to limitations of the platform, captions are not available via the platform post-event. 

If you have a particular accessibility requirement and would like to discuss further please contact diversityandinclusion@nhsemployers.org.

Event partner

Microlink was founded 30 years ago on the grounded principles of people focused solutions to overcoming barriers to working and learning.

The company was set up with a focus on supporting Higher Education students with disabilities by two entrepreneurs with disabilities themselves. Through the nineties, Microlink executives played a leading role in the evolution of DSA (Disabled Student Allowance).

Attention then turned to transforming the process of workplace adjustments.

Using the social model of disability as a guiding compass, Microlink pioneered the streamlining of assessment solutions and support (through the development of expert triage), introducing fast track solutions with standardised packages, reducing costs and driving up quality, supported by business processes that enabled the on-boarding of multi-national corporate clients to exacting standards and timelines, all to the benefit of any person with a disability in the workplace.

In 2011 CEO Dr Nasser Siabi was awarded an OBE for his contribution in helping over 300,000 disabled people transition from education into work. By 2023, the number has risen to well over 500.000.

Event supporter

MindView by MatchWare is an assistive mind mapping software deployed in over 70 NHS organisations, targeted at making more inclusive environments.

Fall in love with work all over again with MindView. Be more productive and unleash your creativity. Let's get things done!

 
Event partner: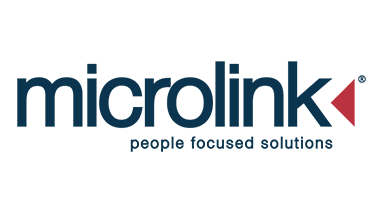 Event supported by: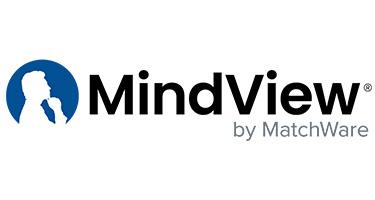 Quotes from 2022 Disability Summit delegates
"The summit has helped deepen my understanding of disability."

"It gave me lots to think about and new ideas to take back to my organisation."
"Inspiring and motivating."