Article
Disability History Month 2023
Find out what is happening during the month and access resources to help you support disabled staff in the workplace.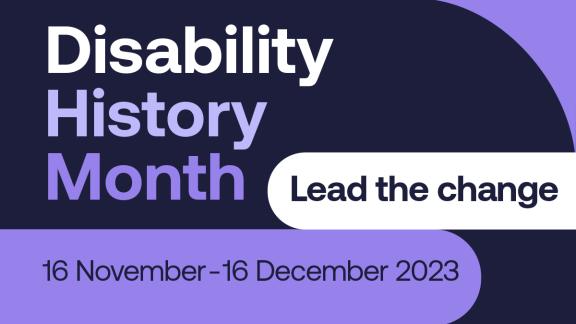 Disability History Month is taking place between 16 November and 16 December 2023. This year, we are focusing on how to lead the change to tackle discrimination and support disabled people working across the health and care sector. 
This is an exciting opportunity to recognise and celebrate the 1 in 5 NHS people who bring personal lived experience of disability and long-term health conditions to their careers, teams, leadership and patient care. 
According to the Workforce Disability Equality Standard (WDES) 2022 one third of disabled staff reported having experienced bullying, harassment or abuse from patients, service users or the public. Around a fifth stated experiencing this from managers and one quarter from colleagues. This is notably higher than that experienced by non-disabled staff and demonstrates the work we need to do to create workplaces that are open, inclusive and a place where everyone feels like they belong. 
Disability Summit 2023: Lead the Change 
Our key event for Disability History Month 2023 is our virtual Disability Summit taking place on Wednesday 29 and Thursday 30 November 2023. 
The Summit features a diverse range of speakers from both within and outside of healthcare, including Jamie Shields, Baroness Tanni-Grey Thompson DBE, Dr Navina Evans CBE, Libby Clegg MBE and Steve Brine MP. 
It will focus on three main themes: 
Data and objectives - creating an evidence base for change.  
Inclusive recruitment and careers.  
Making the health and social care sector a safe and welcoming place to work for disabled people. 
We encourage senior leaders, managers, occupational health colleagues, trade unions, HR and equality practitioners, disabled staff/students and disabled staff network chairs and anyone else with in an interest in disability to attend the event.
Disability History Month provides a platform to run local awareness campaigns and an opportunity to: 

Celebrate the achievements of staff with disabilities. 
Share resources to support disabled staff. 
Raise awareness of what a disability is – not all disabilities are visible or immediately apparent. 
Encourage leaders and managers to support staff through compassion and inclusivity. 
Encourage staff to record their disability on the NHS Electronic Staff Record and have open conversations with their managers. 
Check-in with staff that sufficient adjustments have been made to support those with disabilities to carry out their roles - whether that's onsite or from home. 
Review recruitment practices to ensure they are inclusive. 

Let us know how you are supporting Disability History Month. 

Download our campaign graphics

Disability History Month logo/social media image 

Social media 

Follow us on Twitter @NHSE_Diversity using hashtags #DisabilityHistoryMonth, #UKDHM and #LeadtheChange. 

Email 

Please contact diversityandinclusion@nhsemployers.org 

With over 23 per cent of respondents to the NHS Staff Survey indicating that they have a illness or long-term condition lasting 12 months or more, that means that 1 in 5 of the NHS workforce is likely to be covered by the legal definition of disability (as set out in the Equality Act 2010).  

The following figures are taken from the Workforce Disability Equality Standard (WDES) 2022 Annual Report.   

Disabled staff are twice as likely to enter the formal capability process as their non-disabled colleagues. 

2022 data shows an increase of 0.5 percentage points to 4.2 per cent of the total workforce. 51.2 per cent of trusts have five or fewer Disabled staff in senior positions (bands 8c and above, including medical consultants and Board members). 

Disabled board member numbers have increased by 30. The proportion has increased by 1.0 percentage points to 4.6 per cent. 

Trusts that are rated outstanding in the CQC well-led domain show evidence of being better employers for Disabled staff. 

Disabled staff feeling pressure from their manager to come to work, despite not feeling well enough to perform their duties has reduced by 1.2 percentage points. 

NHS Employers and the NHS Confederation have developed a range of resources including blogs, case studies, videos and guidance to help support disability in the workplace. 

Webpages 

Webinar recordings 

Videos and podcasts 

Case studies  

Blogs 

The UN International Day of Persons with Disabilities is held annually on 3 December. 

#PurpleLightUp is a global movement led by PurpleSpace that celebrates and draws attention to the economic contribution of the 386 million disabled employees around the world. It is held annually as a mark of respect to the UN International Day of Persons with Disabilities (IDPD) held annually on 3rd December. 

You can find resources including zoom backgrounds, graphics and a guide of how to support the campaign on the website.

29-30 December - Disability Summit: Lead the Change- our annual Disability Summit is held virtually over two days. Find out more on our Disability Summit webpage.  

13 December- Why and how to build inclusive teams- join Alli McCall, Clinical Coding Service Manager and Lorna Harasymiuk, Choices College Manager at Newcastle Hospitals talking about the reasonable adjustments they have put in place within her department to create an inclusive environment for neurodiverse staff and the benefits her team has seen as a result. Contact nuth.editeam@nhs.net to book your place.