Case Study
Supporting young people through the full recruitment process
Read how NHS organisations in Norfolk have teamed up to offer packages of employment support for young candidates.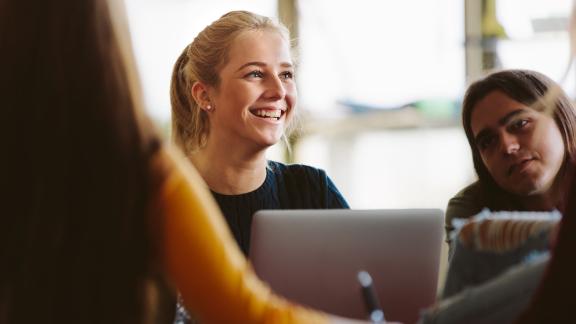 Overview
Recruitment into the NHS continues to present many challenges, including attracting, recruiting, and retaining young people.
Next Gen Health and Care is a system wide pre-employment programme, aimed at supporting 16–30 year-olds in communities to access health and social care employment, and is a used as a delivery partner for The Prince's Trust. The remit of the programme is to make recruitment system changes within organisations, using a flexible, shareable, and adaptable model to improve recruitment processes for candidates and increase the employability rate.
In 2021 Norfolk and Waveney Health and Care Partnership (ICB) decided to use the employability programme and needed to find organisations in the system to establish it. Norfolk and Norwich University Hospitals (NNUH) was the first trust to reach out to form a pilot project. Working together, these organisations have implemented the Next Gen Health and Care programme.
Key benefits and outcomes
Personalised pre-employment support contributes to an improved experience for candidates and helps them to be better prepared for the recruitment process.

Offering feedback at both shortlisting stage and post interview increases the likelihood of candidates reapplying for vacancies.

Providing support to unsuccessful candidates increases the likelihood of them being successful with future applications.
What the organisation faced
The pre-employability co-ordinator on the programme worked with NNUH to identify the organisation's main recruitment challenges. After analysing the data available, it was found that, on average, each vacancy received between 10-15 applications and around five or six of those were shortlisted, meaning 93 per cent of candidates were rejected at either application or interview stage.
Further research was carried out to establish areas of the recruitment system which needed changes. The research found that:
there was lots of generic support and guidance online, but nothing personalised or tailored to potential candidates

there was a lack of feedback offered to candidates with unsuccessful applications (ie at shortlisting stage)

the time constraints on advertising jobs were too limited and there was no co-ordination with system partners

a consistently low number of suitable candidates were applying for vacancies.
The main aim, therefore, was to ensure that all applicants were engaged with and offered support and feedback, no matter how far they had progressed through the process. It was crucial not to lose those candidates already in the system and to support them to be successful with other opportunities.
What the organisation did
NNUH began taking steps to embed the employability programme package, and broke it down into stages:
marketing and promotion – making job adverts as engaging as possible

recruitment and assessment of candidates

mentoring, support, and guidance for candidates (including one-to-one discussions)

bespoke online sessions

applications and employment.
Working with recruitment teams within NNUH, Next Gen designed interventions for the different stages of the recruitment process.
Advertising and pre-employment stage
When a vacancy became available, recruitment teams shared the advert with Next Gen to incorporate the pre-employment support offer. Recruitment teams published the advert in a poster/flyer format with a full description of the job vacancy and details of the option to register for support with the application process.
Feedback after shortlisting
After candidates were shortlisted for interview, employers use TRAC or their own internal recruitment system to identify those not shortlisted. The email flyer included contact details so the candidate could seek support with other applications.
Feedback after interview
This method also applies with candidates who were unsuccessful at interview stage; they will receive an email with contact details to discuss pre interview support.
Employment offer and financial support
If the candidate was successful in gaining employment, the team sent details of financial support packages, such as development awards, to the candidate to discuss and supported the candidate with the application. Any award or grant would be determined by contract partners, the Department for Health and Social Care (DHSC) and the Prince's Trust for suitability/eligibility.
Results and benefits
Since June 2021, the overall programme has contributed to 115 job offers, of which 43 are within NNUH (37 per cent).
One individual had five previous unsuccessful attempts at gaining employment but after accessing support via the programme they have now secured a job within the trust.
The pre-employment co-ordinator role has been essential to help with the completion of paperwork, providing pastoral support and securing placement opportunities. The role also links with The Prince's Trust, records outcomes, and maintains contact with those offered employment on the bank. It supported applicants into substantive employment and has resulted in a very low dropout rate.
As a large NHS acute trust, NNUH would deal with hundreds of applications monthly and do not have the capacity to provide feedback and support to everyone. Next Gen was able to provide this service on the trust's behalf and it has proven to be effective when turning previously unsuccessful candidates into successful ones.
Overcoming obstacles
Embedding an employability programme is not an easy task, it takes a lot of time and effort and would require someone working in a dedicated co-ordinator role. It is important to identify your organisation's unique selling points and consider if it can offer generic support to candidates or bespoke one-to-one support throughout the process. Finding a way to offer feedback to candidates is the biggest sticking point, usually due to lack of capacity of recruiting managers and staff.
If a programme model is not feasible to implement in your organisation there are smaller steps that employers can take to make recruitment system changes, such as adding recruitment guidance and resources to the website and/or sending specific guidance to unsuccessful applicants to help them with other applications and ensure that mistakes are not repeated.
Going forwards
Although this programme was designed for the recruitment of young people, it can be adapted for different scenarios. For example, local authorities have asked Next Gen to help with a programme supporting Ukrainian refugees to gain employment. This has involved working with recruitment leads and Primary Care Network leads to form connections with individuals, being a point of contact for interested applicants to have conversations about jobs and career routes, and connecting eligible candidates with employment opportunities within the system.
These steps removed barriers within a typical recruitment process and provided more encouragement and assurances to candidates who might want to apply. So far, the programme has had five referrals for local refugees, two of which were for doctors who have now been successfully placed in employment.
This example demonstrates that the programme model is replicable for other recruitment scenarios and could be applied to other projects such as for school leavers, social care providers or homeless people. The principles are the same, but the programme would just need tweaking according to the situation.
Take away tips
Seek out and link with third party employability support providers, such as The Prince's Trust.

Focus on the areas of support that individuals require most and identify potential changes.

As a starting point, ensure there is pre-employment, application, and interview guidance available on your organisation's website.

Signpost candidates to other sources of pre-employment support eg Prince's Trust, NHS Health Careers.

Create a clear marketing campaign that communicates what support is available to candidates from your organisation.

Consider setting up an automated response offering feedback through your recruitment system (eg through TRAC).
Further information
Contact:
Danielle Boothroyd, Senior Programme Officer, NHS Employers