Webinar
Workforce redesign webinar
This workforce redesign webinar featured employers discussing new ways of working to meet the ever changing needs of the workforce and patient care.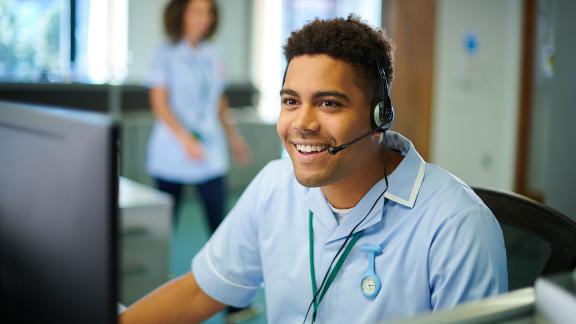 The NHS is seeking new ways of working for existing staff to develop their skills to help meet the ever changing needs of the service and to improve patient care. Workforce redesign can support these transformations and can be used to help the existing workforce adapt.
In the webinar recording below, speakers discuss the topic of workforce redesign, sharing good practice about how they are doing things differently and the approaches they have taken:
Derbyshire Community Health Services NHS Foundation Trust has been working as an anchor institution piloting rotational apprenticeships across health and social care settings for healthcare support worker apprenticeship and they are exploring options for advanced clinical practice training as well. The initiative has found that this has built a breadth of experience and understanding of how the system works with the ambition of having a workforce that sees the whole patient pathway.
London Ambulance Service NHS Trust has developed its own first response initiative using the Mental Health Joint Response Car (MHJRC), which ensures patients with mental health conditions receive specialist care at the right time. The initiative has helped the trust to manage the number of unnecessary mental health related admissions to emergency departments, where teams have previously been unsure of the right care callers have needed by combining skill sets of a paramedic with expertise in pre-hospital care, physical health assessment and examination with a mental health nurse or professional who could provide biopsychosocial assessment and risk assessment.
North Tees and Hartlepool NHS Foundation Trust identified a new gap in the workforce and created a new pathway into NHS careers by developing a band 2 Team Support Worker role. By developing the role the trust has recruited and retained a new group of staff and made NHS careers more accessible with a focus on skills and personal attributes, removing the barriers of educational entry requirements, opening up roles to members of the local community that would not have joined healthcare.
Download the webinar slides, which include resources shared by the speakers,  and watch the recording below.
Answers to the questions as part of the webinar
Lauren's answers
We previously paid similarly to this when we first started up our apprentice provision, however we couldn't keep up with the cost as our apprentice numbers grew. We also became competitive with other organisations; we are currently undergoing an apprenticeship alignment across Derby and Derbyshire, so the pay status below is subject to change:

Apprenticeship wage* for the first year and a day, then national minimum wage for their age group (this is definitely something we would re-evaluate, it was difficult to keep apprentices at times as after six to seven months they could apply for a HCSW Band 2 post).

*There are different rates of pay for apprentices depending on your age and what year of your apprenticeship you're in. See GOV.UK for more details.

Three-month placements, but this is something we would change going forward. A lot of time was taken up by the care certificate and on-boarding and didn't allow the apprentice the opportunity for an in-depth experience. Up to one whole month is taken up with End-point assessments (EPA) preparation. We would likely reduce the placements to four (instead of six) and allow greater insight into the placements.

Level 2 Adult Care worker – when we plan to run the placements, for the third time, our plan is to use the Level 3 Senior Adult Care Worker apprenticeship.

By September, many providers will no longer offer the Level 2 apprenticeships.

We pre-selected the modules from the Level 2 framework to compliment the placements and the competencies required of a health and social care worker.

This is something we have been discussing for a long time. Trying to get to the bottom of what this would look like has been a challenge, particularly, where these 'workers' would sit and who they would be employed by. All apprentices were supported to apply for opportunities that matched their skills, there wasn't dedicated health and social care roles reserved. However, if we move forward with the third cohort as 'hybrid workers', these roles will sit within our PLACE (a group of workers from different public services and third sector organisations) teams in the community.
Daniel and Cameron's answers
We were keen to ensure that our vehicle remained staffed by two registered health care professionals, a paramedic and a mental health professional. This is to ensure parity of esteem between physical and mental health. Parity of esteem is us recognising a mental health need as equally important to a physical health need (The Health and Social Care Act, 2012).


Given that front line policing is also very short staffed, we have found our model works very well, given that we know mental health patients are more likely to be the victims of violence than the perpetrators. Our team perform dynamic risk assessments for all patients they attend and request the police if they are required - we are very cautious that we want to utilise the police's time only when necessary and we find that we request police attendance a lot less than a 'business as usual' ambulance service, thanks to the risk assessment skills of both professionals coming together.

All of our staff undertake a week of additional training and we currently have a number of mental health professionals working alongside our paramedics, nurses, social workers and Approved Mental Health Professionals (AMHPs) and find this works really well for the team!

Hi Agne, our priority is to deliver training to London Ambulance Service staff, but we have delivered training to key stakeholder services. This is usually around how the ambulance service and their services can work better together, and common themes on mental health related incidents where there is breakdown in communication between different professionals etc. (this often revolves around Mental Health Capacity Act etc.)

We can consider any requests at londamb.mentalhealth@nhs.net but are currently under severe service pressures so responses may be delayed.

Stakeholder engagement between our contracts team, the teams at all the different mental health trusts in London and involvement from NHSE/I (London Region)

So, our cars are tasked to calls triaged as mental health in nature but can also be tasked on CAT 1 calls if they are the nearest available resource. Our cars are fully equipped as an ambulance response car, all our mental health professionals are given adequate training to be able to assist the paramedic in most situations that we could respond to.

It is definitely something that is on the radar, patients are going to continue to call the ambulance service when in a crisis and it would be a great improvement for staff to come into the ambulance service with an increased knowledge in mental health. Having some more education on the topic whilst in training can only improve patient care.

Our mental health cars are less likely to utilise police than a 'business as usual' ambulance, and if police are already on scene, then, following a dynamic risk assessment, we try our best if it's safe, to release the police as quickly as possible. As a team we are very conscious of our police colleagues' time. We/the police haven't undertaken a full cost saving analysis from their end yet, but the common feedback from police on scene is "When can we have more than 6?"
Jamie and Fiona's answers
The Team support workers are Band 2, six-month contracts. Once they move into an apprenticeship or other training programme, then the banding may change in line with the role/apprenticeship they've taken on. For example, the Healthcare assistant apprenticeship is 70% Band 2.

I'd agree, as they had minimal training. Team support workers have been deployed in acute medical units, surgical and orthopaedic wards, administrative roles in clinical services and corporate functions. Really varied, but obviously the demands are highest in the acute inpatient setting.

We had two approaches to this. We recruited directly by holding a recruitment event, in which those shortlisted through a regular applications process were brought together and went through a short assessment and interview – this was really successful.

We also ran a recruitment scheme through one of our local colleges who had close links with Job Centres and Community Hubs. They recruited a cohort of 10 people and ran an intensive two-week programme to get them interview-ready for us. Essentially, they may have had what we were looking for but needed some additional support in preparing for interview, completing applications etc. This was also successful and something we'd consider doing again if the demand increased.

In a ward environment there might be two or three Healthcare assistant staff on a shift, and we had planned for one Team support worker to be on shift to support in those areas that requested them. The Team support workers are not included in Safe Staffing calculations and don't contribute to Care hours per patient day (CHPPD), so cannot replace Healthcare assistant staff in ward establishments.