Article
Disability History Month 2022
Find out what happened during the month and access resources to help you support disabled staff in the workplace.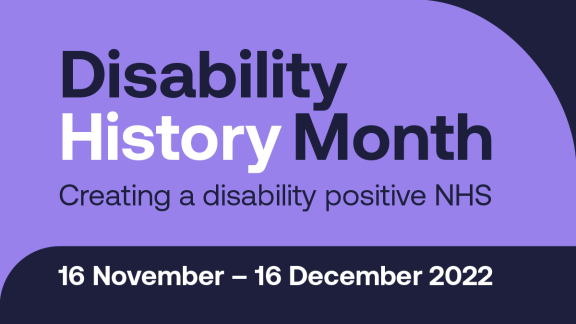 Disability History Month took place between 16 November and 16 December 2022, it provided an opportunity to celebrate the achievements of people living with a disability and also raise awareness.
In the UK, 1 in 5 people have a disability, 83 per cent of which are acquired during working life.
We supported Disability History Month 2022 as part of our ongoing work with NHS England to embed the Workforce Disability Equality Standard (WDES), and ensure our workplaces are open, inclusive and a place where everyone feels like they belong.  

Disability Summit 
Our theme for Disability History Month was 'Creating a disability positive NHS' which was also our focus at our Disability Summit which took place on 7 December. Our summit was chaired by disability specialist and entrepreneur Shani Dhanda and featured other industry experts, disabled staff, disabled staff networks and leaders.

During the summit we shared good practice and actions that can be taken to support disabled staff in the workplace. Visit our event page to watch our video highlights. 
Blog - I don't want to be called disabled 
During the month we published a blog by Paul Deemer, head of diversity and inclusion at NHS Employers. Paul highlights how the language used to describe disability can disempower many disabled people, with many staff not recording their disability on ESR.
Understanding disability infographic
We recently refreshed our disability infographic which highlights key information around disability. Organisations are encouraged to share this infographic internally and run an awareness campaign, prompting staff to record their disability on ESR and to have an open conversation with their manager. Access the infographic. 

Watch a video message from Matthew Taylor, chief executive, NHS Confederation