Article
The NHS Learning Disability Employment Programme
Find out how you can support people with learning disabilities into the workplace through supported internships.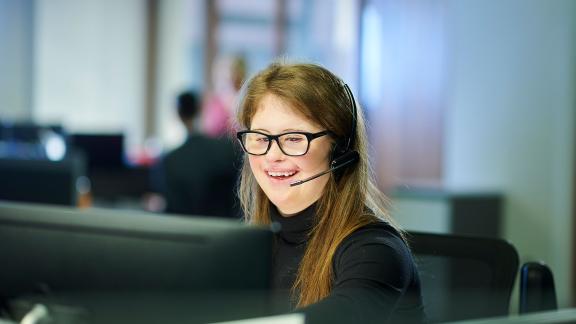 Employment rates for people with a learning disability and/or autism have remained low for many years. NHS Employers launched the Learning Disability Employment Programme (LDEP) in partnership with NHS England in 2015 to support the development of local and national solutions to remove barriers and increase employment opportunities for people with a learning disability and/or autism in the NHS.
The programme is key to delivering a specific commitment to employ more people with a learning disability and/or autism set out in the NHS Long Term Plan. It forms part of our work to support NHS trusts to design services which serve and reflect their diverse patients, people and communities.
We are working to support the NHS to offer meaningful jobs to people with learning disabilities. There are not only benefits to the individuals but also for employers, including the savings associated with reduced employee turnover, accessing a bigger talent pool and nurturing an inclusive and accessible organisation.
Recruiting staff through supported internships
Supported internships are a one year work based study programme, where young people aged 16 to 24 spend the majority of their time based at an employer. They provide an important step into employment, helping young people gather the skills and experience they need to secure a job.
There are a range of supported internship programmes being delivered by NHS organisations and partners across the health system. Some organisations have their own schemes, however, the majority of NHS organisations work with one of the two main national providers - Health Education England's Project Choice and DFN Project SEARCH. Both offer a wealth of experience of working with NHS organisations, and provide an infrastructure which supports NHS organisations and individuals. 
As of July 2021, Project Choice has supported more than 150 young people across 31 NHS sites, it aims to grow by an additional 48 new placements for the 2022-23 academic year. 

DFN Project SEARCH has supported 270 young adults a year across 36 NHS sites.
As part of the commitment to increasing supported internships and lasting employment in the NHS Long Term Plan; NHS England, NHS Improvement and Health Education England have each committed £210,000 to support 42 additional supported internship programmes through DFN Project SEARCH.
Get involved
Project Choice and DFN Project SEARCH are directly approaching NHS organisations, particularly those that have taken the Learning Disability Employment Programme Pledge, to see how they can develop new supported internships at their sites.
NHS organisations with any questions on the operation of supported internships in their area can contact either DFN Project SEARCH or Project Choice. If you have specific questions about the LDEP Pledge, please contact the national LDEP team.