Infographic
Optimising attraction, recruitment, support and career development for new healthcare support workers
NHS Employers surveyed newly appointed healthcare support workers (HCSWs) in the North East and Yorkshire Region.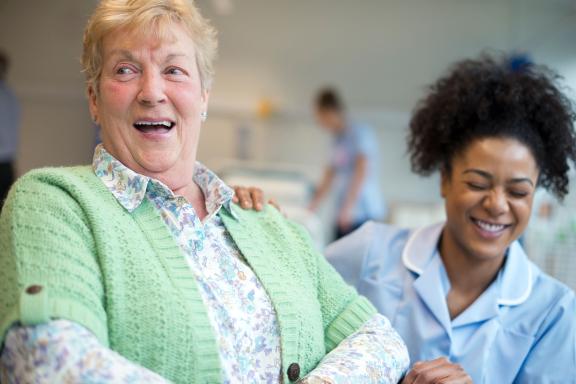 In June 2021, on behalf of NHS England and NHS Improvement, NHS Employers carried out the first of two surveys on newly appointed healthcare support workers (HCSWs) in the North East and Yorkshire Region to understand attraction, recruitment, onboarding, induction and career development support experiences. 379 HCSWs appointed from 1 December 2020 completed the survey. This infographic highlights some of the key statistics and recommendations. A second survey and infographic will follow in early 2022.
Key survey statistics
Use the directional arrows below to cycle through the data graphs.
What can my organisation do to improve?
"No care certificate resources were available, and no help given to understand how to navigate the online system".
Attraction
"A video showing the wards and site and possibly different patients speaking about their experiences with their HCA and some staff talking about their role would have been appealing".
Recruitment
Recruit for values

and help to ensure you secure the right people for your organisation.

Where possible, try to speed up and streamline recruitment processes to support HCSWs into post as quickly as possible. Explore the use of

robotic process automation

.

Help manage applicant expectations by clearly detailing role activities, shift patterns and any weekend working.
"To be fully informed of exactly what was included in the role applied for. ie, wasn't told about working weekends and wasn't told about working on call".
Onboarding
Develop an onboarding checklist. Further information on onboarding can be found on the NHS England and NHS Improvement website. 

K

eep candidates warm throughout, especially if there are delays from appointment to starting in post.

Provide as much information, pre-training and guidance as possible to help prepare HCSWs and ensure they can hit the ground running when induction arrives

.
"Being shown around where you would be working before initially starting, I think would be beneficial especially for a new starter who hasn't worked in a hospital environment before as it can be overwhelming knowing where things are etc. and also, going through how rotas work and annual leave etc".
Induction
Develop a checklist and ensure everyone involved in the induction understands their role.

Ensure all the basics are covered – allocation of uniform, access to IT and training, information about shift patterns, how to access the Bank, tour of the hospital and information on how annual leave works.

Where possible provide peer and/or mentor support.
"I feel I could have been shown different departments of the hospital, as I have been asked to go to departments to collect items and have struggled to find these".
Career development
"I love the job I'm in now but really want to become a registered nurse, I'm so happy that the trust offers developmental opportunities although I think there should be more".
Further information
For further information on attracting and supporting newly qualified HCSWs in your region please email cathrina.tierney-reed@nhs.net.