Article
Supporting the health and wellbeing of NHS staff during industrial action
This page brings together key information and resources to support your staff during periods of industrial action.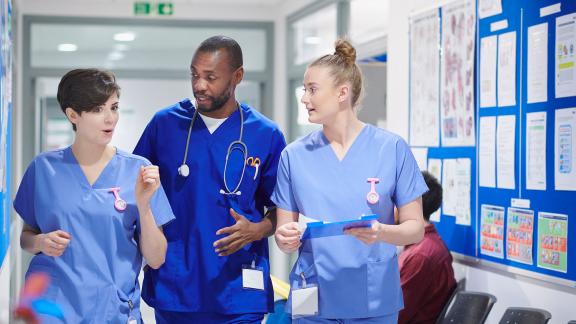 Looking after the health and wellbeing of our NHS staff has always been important and continues to be as we enter a period of industrial action. NHS leaders and managers should continue having regular and compassionate wellbeing conversations to understand how staff are feeling and how their organisation can support them. 
We have pulled together some helpful existing resources that you can use to support your staff with their health and wellbeing: 
Health and wellbeing conversations - We encourage that regular health and wellbeing conversations continue to take place during periods of industrial action and that managers are supported to do this sensitively and compassionately. 

How are you feeling NHS? toolkit - It's often easier to recognise someone's physical wellbeing than their emotional wellbeing. We also find it easier to engage in conversations about physical health, but often find talking about emotional wellbeing to be more of a challenge. Our emotional wellbeing toolkit explains the contributors to decreased emotional wellbeing and can be used in teams to support colleagues. 

Supporting the wellbeing needs of NHS staff - This guidance supports NHS health and wellbeing leads and managers to prioritise and fulfil staff wellbeing needs. It helpfully demonstrates the importance of meeting basic wellbeing needs, which act as the foundation for fulfilling the overall health and wellbeing.  

Health and wellbeing communications guide - This guide provides practical tools that will help NHS organisations effectively communicate industrial action updates with staff.  
The wellbeing of staff can be affected by all kinds of factors at work including workloads, capacity and relationships with colleagues. The imminent prospect of industrial action will likely impact on the health and wellbeing of some NHS people, so it is essential that organisations continue to encourage and facilitate supportive and compassionate cultures that prioritise workforce wellbeing.  
It's also important that during this time, staff are reminded of the existing support that is available to them, including: 
professional nurse/midwifery advocates 

occupational health (OH) and other health and wellbeing services. 
Further resources: 
Contact us
Should you have any questions, please do not hesitate to email us.