Article
Training and funding nursing associates
Find out how to train nursing associates, what funding is available and the opportunities the nursing associate role presents to employers.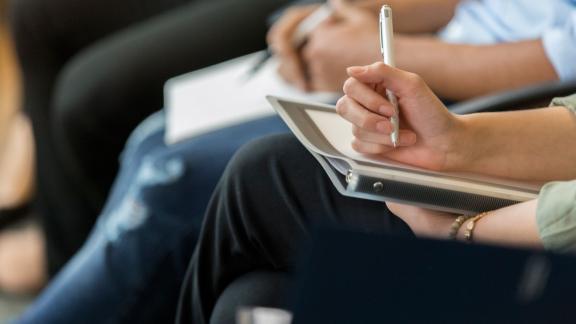 Most nursing associate training programmes are being delivered through the apprenticeship route.
Individuals can also self-fund their training through college or university. Employers can also support retired nurses to retire and return or overseas nurses to become nursing associates. See our below infographic for further information.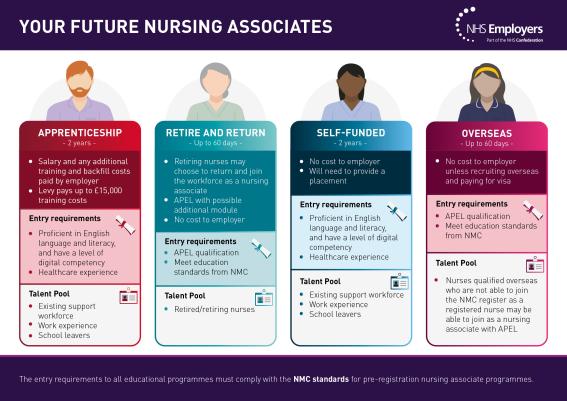 What does the nursing associate programme include?
A foundation degree training programme is usually taken over two years. During this time, the trainees must complete at least 2,300 programme hours which are divided to achieve an equal balance of theory and practice learning. This equates to half the hours required for a registered nursing qualification.
To meet the requirements of the training programme, trainee nursing associates must work in a range of settings and situations to gain as much experience as possible across different age groups.
The trainees must complete at least two substantial placements (totalling 675 hours) in settings other than their primary place of employment.
As part of the nursing associate apprenticeship, trainees must meet the 15 standards set out in the care certificate. If they do not already hold level 2 English and maths qualification, these should be achieved before or whilst completing the programme. Health Education England and education providers can support with this.
Requirements for training and education are set out and regulated by the NMC in its standards for pre-registration nursing associate programmes.
Skills for Health have published a Nursing Associate apprenticeship information pack with useful links, case studies and resources to support employers in navigating the apprenticeship. This can be downloaded from the HASO website. 
Can colleges deliver nursing associate programmes?
Yes, provided the college is approved by the NMC to deliver the training. South Devon College become the first further education provider to be approved by the NMC to deliver the training in 2021. Find out more.
Clinical placement activity
Trainee nursing associates must complete at least two substantial placements (totalling 675 hours) in settings other than their primary place of employment. It is up to the employer and provider to agree how these placements are delivered which can include subcontracting and third-party arrangements.
If you deliver training to trainee nursing associates as part of their clinical placement you may need to be registered on the register of apprenticeship training providers (ROATP). Employers may be able to claim up to £2,500 of apprenticeship funding.
The NMC has developed supporting information that provides a definition and examples of protected learning time while training nursing associates, and sets out two options for how time spent learning in practice can be protected for trainee nursing associates.
Option A
Nursing associate students are supernumerary when they are learning in practice.
Option B
Nursing associate students who are on work-placed learning routes:
are released for at least 20 per cent of the programme for academic study
are released for at least 20 per cent of the programme time, which is assured protected learning time in external practice placements, enabling them to develop the breadth of experience required for a generic role
must have assured protected learning time for the remainder of the required programme hours.
It is for the education provider, working with you and the other practice placement partners, to determine how programmes are organised. You will need to share any preferences you have about the structure of the programme as it is being developed by your education provider.
Hub and spoke models
Many employers already offering the trainee nursing associate programmes have adopted a hub and spoke model. This is where trainee nursing associates split their time between their primary place of employment and spoke placements, to broaden their skills and experience and maximise their learning opportunities.
Practice example
Canterbury Christ Church University's approach to placements is to deliver three 15-week terms, where one day a week is on placement in a different setting. This provides 675 hours of practice learning. Placements may be in a child-specific setting, mental health setting or an adult setting. A hub and spoke model may be employed to ensure a breadth of experience. The learner would have a hub area, for example a district nursing team, and then spoke opportunities where they are able to experience a range of services.
There are broadly two approaches to how academic learning has been structured, one involving a block approach and the other an integrated learning approach. The block approach is usually a week of academic study a month. The integrated learning approach will typically see academic learning undertaken one day a week.
The number and length of placements a trainee nursing associate will undertake can vary with the duration and type of placement being shaped by what is available locally.
What funding is available to support training?
For trainee nursing associate programmes running from January 2021 to December 2021, financial support is available, per trainee nursing associate, from Health Education England.
Available support includes:
a standard trainee nursing associate £8,000 (£4,000 per year over two years)
a learning disability enhanced trainee nursing associate £15,800 (£7,900 per year for two years). This applies to trainees who are working at least 50 per cent of their practice time with people who have a learning disability, autism or both. A learning disability enhancement is available for 2021 of £3,900 per year per TNA
placement tariff to support trainee nursing associate direct entry programmes
This funding is reviewed on an annual basis. For more details visit HEE Employer Resources.
Self-funded nursing associate route

Guy's and St Thomas' NHS Foundation Trust is looking to recruit more than 400 nursing associates in the next five years to build its nursing teams and sustain the nursing workforce within the organisation.

In May 2020, the trust in collaboration with Coventry University, started its first self-funded nursing associate programme. The trust allocated approximately 25 places on the programme to self-funded nursing associates, which they are looking to expand to 60-80 places in future. A larger cohort in September aimed to maximise uptake by aligning with the clearing process and university starters. At the end of a completed self-funded nursing associate programme, trainees will be offered a nursing associate role at the trust.
The apprenticeship levy can be used to fund trainee nursing associate programmes and will cover the cost of the training and assessment (including end-point assessment) up to the maximum of the assigned funding band, which for the level 5 nursing associate standard is set at £15,000. However, education providers are likely to offer conventional or fee-paying routes to train to become a nursing associate as well, if the demand is there.
Employers may be able to claim up to £2,500 of apprenticeship funding to cover the costs attributed to providing clinical placements for nursing associates but only if they are delivering an activity that is an eligible cost as defined by the funding rules.
For further information regarding the apprenticeship funding arrangements for nursing associates, read the Education and Skills Funding Agency's updated guidance.
What supervision do qualified nursing associates need?
As registered professionals, nursing associates are individually accountable for their own professional conduct and practice. It is likely that nursing associates will typically work under the direction of a registered nurse or registered professional but may not require direct supervision. They will also be able to support, supervise and act as a role model to trainee nursing associates, healthcare support workers and those new to care roles.
Providing preceptorships for qualified nursing associates
Good quality preceptorship programmes can benefit individuals and employing organisations as they help to build confidence and competence, consolidate learning, and reduce attrition within the first years of employment.
Shared learning

York Teaching Hospitals NHS Foundation Trust developed a preceptorship programme aligned to the NMC standards of competency for qualified nursing associates. The preceptorship programme is also attended by newly qualified nurses to build relationships and understanding of how the two roles will work together. Nursing associates are welcomed into their new position with an introductory goodie bag which includes details about their preceptorship, competency documents and promotional items as a welcome to the trust.

Each newly qualified nursing associate spends a week at the start of their preceptorship undertaking scenario-based learning in topics such as pain management and diabetes management. They spend a day with senior nurses to build relationships and ask questions in a safe space. Every other month for the remainder of the year, newly qualified nursing associates will have a study day away from the ward to focus on topics such as nutrition and end-of-life care. There is also the option to pick a topic of their choice for the last training session of the preceptorship.
Revalidation
Once qualified, Nursing associates are subject to regulatory requirements such as revalidation and fitness to practise. More information about how the role will be regulated is available on the NMC website.
Career development pathways
The nursing associate role can be used to provide a development pathway for those wishing to train as a registered nurse. The qualifications gained can be accredited against a nursing degree or a nurse degree apprenticeship to shorten that training.
The NMC standards of proficiency for nursing associates have been designed so that education providers can easily develop programmes that build on nursing associate proficiencies, and enable students to progress on to registered nursing programmes.
Resources
Find out more about using Nursing Associate roles in your organisation by watching our webinar series on: