Article
Preceptorships for newly qualified staff
This page explains the importance of offering quality preceptorships to newly qualified staff.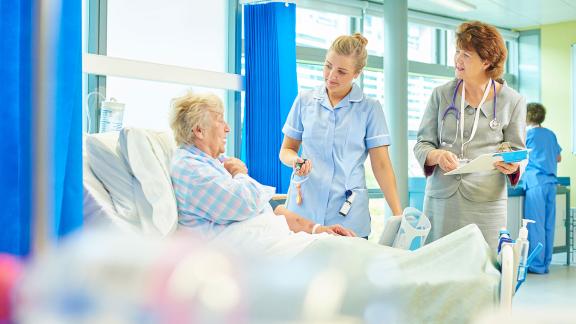 The beginning of a newly qualified practitioner's career can be a challenging time and their initial experiences can shape how they develop in their career. To ensure the best possible start for newly qualified nurses, nursing associates, midwives and allied health professionals, a quality preceptorship programme is essential.
What is a preceptorship?
The Nursing and Midwifery Council (NMC) defines a preceptorship as 'a period to guide and support all newly qualified practitioners to make the transition from student to develop their practice further'.
A preceptorship should be a structured period of transition for the newly qualified nurse, nursing associate, midwife or allied health professional when they start employment in the NHS. During this time, they should be supported by an experienced practitioner (a preceptor), to develop their confidence as an independent professional, and to refine their skills, values and behaviours. Having expert support, and learning from best practice in dedicated time gives a foundation for lifelong learning and allows them to provide effective patient-centred care confidently.
The standards for pre-registration nursing education recognise that nurses will need to be more independent, autonomous and innovative in the future. Having a strong preceptorship programme in place will be vital to achieving these aims.
Benefits of a preceptorship
It is recognised that where preceptorship is well embedded as part of the organisational culture, there are significant benefits for the newly qualified staff, teams, patients and the organisation itself in terms of retention, recruitment and staff engagement. Investing in a preceptorship programme can deliver a variety of benefits for the preceptee and employer, such as:
enhanced patient care and experience
improved recruitment and retention
reduced sickness absence
more confident and skilled staff
increased staff satisfaction and morale
Employers are encouraged to track, measure and evaluate the success of their preceptorship programmes to be able to demonstrate value and make improvements where necessary.
Recently qualified healthcare professionals during the pandemic
We are hearing from Health Education England and the Council of Deans for Health that some students who are graduating since the start of the pandemic have had a different experience and may not be as confident as previous cohorts that have qualified from their university courses. Universities are stressing that the newly qualified professionals are competent and registered. However, there are some scenarios which they may not have encountered due to placements being rearranged or some care pathways not being witnessed due to the pandemic.
Therefore, we are suggesting that NHS organisations consider the following points when appointing a newly graduated professional and implementing their preceptorship.
Have a discussion with the individual to understand their specific needs, if any. You may wish to do this in-conjunction with your local RePAIR representative and/or the university if appropriate.
Undertake a detailed induction and stress within that, that the trust/department is aware the pandemic has potentially impacted on their education and if they have any concerns, identify who they can go to.
Discuss their preceptorship on a one-to-one basis and have an open discussion about any worries or concerns they may have. Document these discussions and come up with an action plan about how these will be addressed. Review the plan on a regular basis and note the progress made.
Have a named buddy from day one, who they can discuss any problems they may have.
Reassure them that the trust/department knows that they are registered and competent in the role.
Highlight the other support available within the trust such as occupational health, counselling and staff side among others.
Further advice is available to students and line managers on the NMC website.
Resources
The NMC has developed a set of principles for employers to help them deliver high quality and effective preceptorships for newly qualified nurses, midwifes and nursing associates. Download the principles of preceptorship document (pdf).
A selection of resources from the CapitalNurse programme, including a preceptorship framework and presentation can be found on Health Education England's website. These can be adapted for different professions and there are examples of good practice from a number of NHS organisations in the 'case studies' section.
The pan-London region has also created a framework for health and care organisations to support the practice of newly registered nurses. This recommended best practice approach to preceptorships has been developed through an extensive stakeholder engagement exercise and recognises that a positive preceptorship experience offers significant benefits to both the newly qualified professional and organisations. View the pan-London resource.