Case Study
The apprenticeships pathway boosting young people's recruitment
Coventry and Warwickshire Partnership NHS Trust has supported 240 young people through a pre-employment programme focusing on apprenticeships.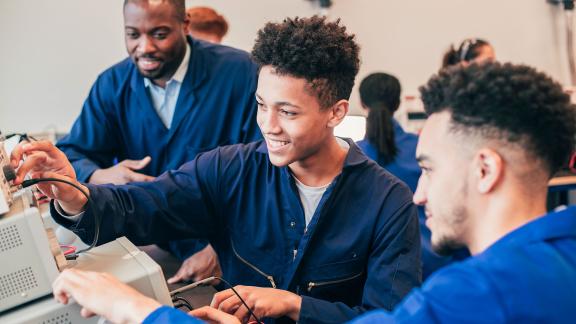 Coventry and Warwickshire Partnership NHS Trust (CWPT) has successfully supported 240 young people through a bespoke pre-employment programme focusing on apprenticeship opportunities. The programme ensures young people are supported throughout their training, perform well at interview and ultimately find the right NHS career path for them. It was developed in partnership with The Prince's Trust.
Key benefits and outcomes
The Prince's Trust partnership has helped CWPT attract and recruit many more young people into apprenticeships with the trust.

The four-week pre-employment programme has allowed young people to learn about the range of apprenticeships available with CWPT and to be work ready.

Mentoring provided by The Prince's Trust has contributed to the support available during the first 12 weeks of the apprenticeship scheme. 

The trust has been able to offer band 3 paid positions to successful candidates for the remainder of their 18-month apprenticeships.
What the organisation faced
The trust wanted to improve its social responsibility and talent pipelines by recruiting more local young people into the organisation.
A partnership with The Prince's Trust would help them achieve their goal and ensure young people are well prepared to succeed in their apprenticeships.
What the organisation did
The trust introduced a pre-employment and mentoring programme that would provide bespoke training with an emphasis on values-based recruitment, work experience and gaining evidence that can be used in young people's applications to apprenticeships.
To ensure a smooth transition into apprenticeships, the trust took the following actions:
Carried out mock interviews at the end of the four-week pre-employment programme, with one-to-one feedback for every candidate. Fellow apprentices who had been with the trust more than 12 months and had undertaken recruitment and selection training were invited onto the panel to support their training and development.

The young candidates were invited to attend apprenticeship recruitment days along with external applicants. This encouraged friendly competition and commitment to the role if successful.

Designed a bespoke, 12-week period of learning and pastoral support from the Talent for Care and The Prince's Trust mentoring scheme at the start of the apprenticeship.

Candidates were supported to complete a care certificate, start functional skills training in English and maths, if needed, and start level 3 qualifications.

A range of bespoke training providers were contracted. For example, for an allied health professional role apprentices are trained by therapists and receive a therapy qualification. Providers included the national 

Impact Futures organisation and Coventry Chamber of Commerce.

Adopted an additional pathway into traineeships in communication, information technology and customer services. 

This offered an additional 8-10 days of targeted work experience for trainees and allowed managers to get to know them more.

Arranged programme celebration events for staff, encouraging them to offer work experience in their departments, become a mentor or talk to young people about job roles

.
Overcoming obstacles
To ensure equality of access to IT equipment, all candidates were offered use of trust computers throughout the pre-employment programme and to apply for apprenticeship roles.
To avoid potential issues arising around NHS employment checks, it was essential for the staff involved to be up to date on DBS rules for employing young people.
As long as The Prince's Trust communicated well about any learning difficulties or mental health issues experienced by the candidates put forward for the programme, managers could prepare and gain the advice needed to ensure all young people wanting to take part had full support to succeed.
Results and benefits
The four-week, pre-employment programme followed by a 12-week supported training period has helped the trust recruit committed candidates, who pass their recruitment assessment, into paid work for the remainder of their 18-month apprenticeships (at either c

ustomer services level 2 or health care assistant apprentices level 3).

The trust has successfully recruited 240 young people into apprenticeships and traineeships who may not have otherwise considered careers in the NHS. 

The flexible and bespoke design of the programmes has helped candidates find the right role for them, which has improved retention rates.
"One Prince's Trust candidate who had not heard of occupational therapy before completing his apprenticeship went on to university to study for an Occupational Therapy degree."
"Some Prince's Trust candidates explored different roles in corporate services, including HR, IT and information services, and are now band 4 level and have their own teams."
"We wouldn't be without The Prince's Trust, not only to help us attract local talent and support our social responsibility; the support we get before, during and after (the programme) is second to none."
Charlotte Sutton, Talent Manager, Coventry and Warwickshire Partnership NHS Trust.
Top tips
Arrange plenty of meetings with The Prince's Trust to discuss your ideas. Get as many colleagues involved as possible, from different departments, to create a scheme of work everyone is happy with.

Think about outcomes before starting the programme – where are the vacancies, who will offer work experience, where are the opportunities for

 post-programme traineeships, etc.

Throughout the pre-employment programme, provide as much work experience as possible and divide it over the four weeks rather than in one block. This allows managers the time to plan suitable tasks for candidates.

S

et up 'meet and greet' sessions for managers, mentors and young people ahead of the work experience. This helps build relationships and reduces nerves.

Offer candidates a wide range of placement options and encourage them to select a first, second and third choice to encourage them to think about options carefully and recognise they might suit a variety of roles.

Involve board members and senior leaders in the programme and celebration days to maximise engagement and publicity.