Case Study
Recruiting young people from care into NHS careers
A unique programme at Northern Care Alliance NHS Foundation Trust (NCA) is providing career opportunities for young people with a background in care.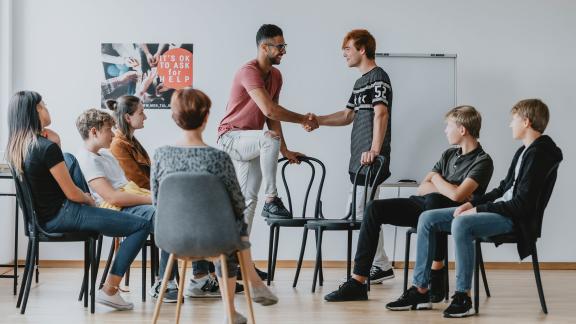 The NCA Looked after children pre-employment programme supports young people with a background in care and unaccompanied asylum seeker children, providing opportunities in NHS roles such as health care support, administration and ancillary. It was developed in partnership with NHS England and NHS Improvement, Next Step and The Prince's Trust.
Key benefits and outcomes
A cohort of young people were offered 10-week, full-time placements in different departments.

All young people received pastoral support from case workers at Next Step (

leaving care service at Salford City Council)

 throughout the programme.

80 per cent of the cohort are now in positive outcomes (employment with NCA or further education).

Successful partnership working throughout the recruitment process, from onboarding to job offer and beyond.
What the organisation faced
NCA has run pre-employment programmes across four hospital sites and been engaged in widening participation activity for more than 10 years. It provides a range of programmes to support those furthest away from the job market.
NCA has worked with The Prince's Trust for more than five years delivering the Get into hospitals programme, which has seen great success in moving young people into paid employment within the trust.
The trust has also developed a recruitment pipeline for Get into hospitals participants to ensure they are guaranteed an interview for upcoming vacancies. 
With recognition of NCA's experience and success in this field, NHS England and NHS Improvement proposed a pilot project that would support care experienced young people into health and social care careers at the trust through a dedicated pre-employment programme.
What the organisation did
NCA led the pilot programme as part of a wider partnership in the North of England. NCA involved The Prince's Trust and Next Step from the beginning so all partners' objectives and needs were met.
Responsibilities and workload were allocated as follows: 
Prince's Trust provided expertise in delivering programme sessions, ensuring they were current, engaging and supporting the personal development of the young people.

Next Step leaving care team lead the recruitment,

identifying young people from their caseloads who were interested in careers in health and social care.

Next Step 

also provided pastoral support for learners throughout the programme.

NCA provided the young people with specific sessions around NHS recruitment, seeking work placements and moving them into positive outcomes. 


 
NCA gained department buy-in using various methods:
Highlighting that the programme met the NHS People Plan agenda and trust objectives.

Promoting the programme to teams which had upcoming vacancies.

Arranging a managers' engagement session detailing the programme.

Pitching the programme as a 'trial shift' and a 'free pair of hands'.

Explaining that the programme team would handle all pre-employment checks to ensure a quicker onboarding process for those successful at interview.

Showing departments that the programme was a potential recruitment pipeline, with a pool of young people ready to start who met their values and needs.

Explaining that pastoral support was the responsibility of the Next Step leaving care team.

Confirming that the only

 requirements from departments was to be open-minded and to assign a 'buddy' for the young person.
Results and benefits
Recruitment pipeline
The NCA continues to run a range of pre-employment programmes which includes the Looked after children pre-employment programme. It has developed a Vacancy control panel working group which tracks upcoming vacancies via TRAC. It uploads the young person's information onto a tracker, reaches out to recruiting managers and liaises with resourcing managers.
Moving into roles
Working with the resourcing team NCA created a new recruitment tool, the Social values recruitment pathway. This shows how the trust works together with the Next Step team to process all pre-employment checks to ensure the onboarding process is as short as possible.
Providing support
The young people are assigned mentors from The Prince's Trust for up to six months after completing the programme.
"The success of this programme was due to great partnerships.
"So far we have delivered the course at one site, Salford Royal NHS Foundation Trust. The plan is to deliver it across all four of our sites, working with the local leaving care teams. The Prince's Trust has agreed to support us so we can make this part of our 'business as usual'."
(Hannah Vincent, Widening Participation Programme Coordinator, Northern Care Alliance NHS Foundation Trust)
Overcoming obstacles
DBS Challenges
NCA went into the programme aware of the potential risks regarding DBS. It forecast these and put plans in place to overcome them. It obtained an address history from the leaving care team, gained an understanding of route two DBS procedures and allocated funding for key identity documents.
Vaccinations
NCA ensured the cohort of young people had an opportunity to fully consider the option of having a COVID-19 vaccination. It arranged for the trust's head of immunisation to run a myth-busting session as part of the programme.
Occupational Health
NCA recognised that care leavers have often moved areas many times, making it difficult to be registered with a GP. The leaving care team's on-site nurse supported NCA to find immunisation records and health histories.
Top Tips
Don't be afraid to make it a 'targeted' course - 

NCA

found this to be a very successful way of tailoring the programme to support the needs of the cohort.

Develop partnerships – "Without the partnership element of this programme, it would not have been the success it was. We were all involved from the beginning and would arrange regular meetings to ensure we were covering all the basics. There is no point in reinventing the wheel, use your networks!" (Hannah Vincent)

Pitch the programme as a recruitment pipeline to department managers –

NCA

uses both case studies and managers who are already engaged with programmes to showcase the benefits.

Forecast the risks – "If we had not worked with the Next Step leaving care team to understand the barriers the young people face, we would have had delays and potentially not started."

(Hannah Vincent)
"On average, most of our learners move into paid vacancies after four weeks of completing the programme.
"The learners have been some of the most resilient, engaged, and brilliant young people I've had the pleasure to work with. You just need to understand the barriers these young people face so you can provide the right support."
(Hannah Vincent)
Further information 
For more information about the work in this case study, contact Hannah Vincent, Widening Participation Programme Coordinator, Northern Care Alliance NHS Foundation Trust, at hannah.vincent@nca.nhs.uk.