Case Study
Social media tips to attract young staff
Top tips on how to use social media to attract and recruit young people.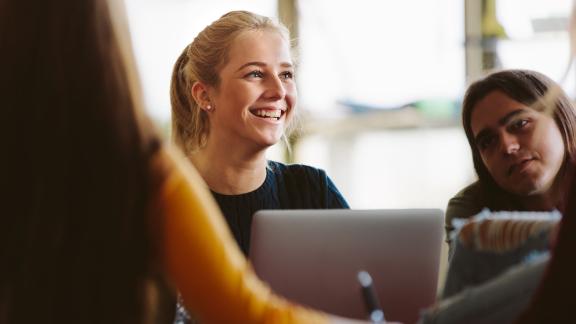 Knowing how best to communicate your vacancies to young people can be a challenge. Here we provide a series of top tips from two NHS trusts on how to use social media to connect with young people and attract them to roles in your organisation.
Introduction
Workforce supply is becoming more difficult. There are more vacancies across all sectors than before the COVID-19 pandemic and increased competition for labour. NHS employers need to do more than ever to engage with and attract young people to work in their organisations.
This resource shares how two NHS trusts succeeded in using social media to recruit. It offers tips on how you can find and engage with young people in your local area and how the NHS can use social media more effectively.
 
In focus: how trusts in Mid and East Cheshire use a personalised approach to recruit young people
Name: Mandy Buckley
Role: Prince's Trust Recruitment Project Manager
Organisation: Mid Cheshire Hospitals NHS Foundation Trust and East Cheshire NHS Trust
Model: Mandy uses social media to join and connect with local voluntary and community groups. She looks out for words such as 'job' or 'work' in the chat and proactively shares local NHS employment opportunities. She offers to visit groups to explain the roles available and provides one-to-one support to help individuals into employment.
Outcome: Between November 2021 and June 2022, Mandy has registered 105 people into her recruitment support service, 36 of which have received job offers. 83 per cent have engaged with her through social media (either directly or indirectly through friends and relatives, or through recruitment events advertised on social media).
 
Social media top tips
Social media platforms used: Instagram, Facebook and Twitter.

Separate accounts for recruitment: Mandy uses social media accounts specifically set up for recruitment purposes. She can use more informal language than that used by the trust's communications team. Feedback suggests this approach has been well received by users.

Timing: Mandy can post on social media with immediate effect. This has proven useful to communicate urgent news and updates regarding NHS events. For example, she recently used it to promote the televised Prince's Trust Awards, which featured two NHS-based winners.
Scope: Mandy identified a wide range of local voluntary and community groups to target and support young people into employment.

Personalised support: By providing one-to-one support, Mandy has been able to discover more about individual's passions and motivations and match them to the most appropriate vacancies. This has also helped with retention.

For example, Aiden engaged with Mandy's service through social media. He initially wanted to apply for a role as a band 2 domestic. However, by spending time with Aiden, Mandy discovered he enjoyed joinery. Much to the delight of the estates and facilities department who had had a long-standing vacancy, Aiden secured a job as a band 4 joiner.
 
Experience and knowledge: Mandy had previously worked for five years in the HR department, providing pre-employment support and managing the Twitter account. She gained a wide knowledge of the structure of the trusts and the range of roles available. Mandy also lives locally, knows the geographical area and has insight into the demographic profile and needs of the local population.

Connecting with local public organisations: Mandy has collaborated with Cheshire Fire and Rescue Service to recruit young people who qualified from its Prince's Trust Team Programme, a 

free 12-week personal development course for 16- to 25-year-olds. The course includes a team building residential week, participation in a community project and a two-week work placement.
"Having direct access to the trust recruitment social media accounts has enabled me to connect with people in real time. I can post content immediately, at the times that it will have the most impact.
"The best way to reach people is to follow and connect with as many local community pages and groups as possible. I then respond and comment directly on posts where people are asking for careers advice or support. This takes a bit of time to monitor, but the return is fantastic!"
Mandy Buckley, Prince's Trust Recruitment Project Manager, Mid Cheshire Hospitals NHS Foundation Trust.
Summary
For more tips, visit our social media in recruitment web page which provides a quick guide to social media for employers. It explains how to create a social media strategy, how to use Twitter and Facebook and provides many useful resources.
 
Contact details
For more information about the work in this resource, contact Mandy Buckley, Prince's Trust Recruitment Project Manager, Mid Cheshire Hospitals NHS Foundation Trust, at amanda.buckley@mcht.nhs.uk.