Article
Deploying nursing associates
Find out how to deploy qualified nursing associates in your organisation.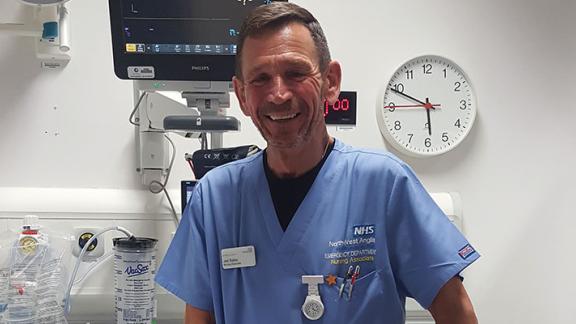 This page contains information about employing nursing associates once they have completed their training and become qualified and registered professionals, alongside signposts to information from the relevant bodies about the deployment of qualified nursing associates.
The NMC has developed and published standards of proficiency (pdf) for nursing associates. These standards set out the knowledge, competencies, professional values and behaviours expected of a nursing associate at the point of registration. They will help employers to understand what nursing associates can contribute to patient and service-user care.
As employers are becoming more familiar with the role, we're seeing it expand in a variety of acute, mental health, community, primary and social care settings. Within these areas we're seeing the nursing associate role utilised in medical and surgical wards, in-patient wards with older people or children, outpatients, community nursing and mental health teams, theatres, accident and emergency, and inpatient learning disability settings. (This list is not exhaustive).
Watch our past webinar which showcases examples of acute, community and social care employers using the role.
"Since qualifying as a nursing associate in December 2018, I have been employed in the emergency department of a busy city hospital. The work is fast paced, and patients can arrive with conditions that range from life threatening to minor injuries.

"Within my role I support a registered nurse or work independently, providing care for up to five patients. This can involve observations, medicine administration, ECGs, catheterisation and wound management among many other tasks. I am also one of the department's lead links for sepsis management."

- Jed Bates, Registered Nursing Associate
Employer perspectives
Surrey Heartlands Health and Care Partnership
Organisations in the Surrey Heartlands Health and Care Partnership have worked collaboratively as an Integrated Care System (ICS) to look at how they can use the nursing associate role within their nursing structures. Across the system there are a number of nursing vacancies they have struggled to recruit to, so the partnership took a fresh look at how care is provided and what skills are needed.
Adopting a 'grow your own' approach, trainee nursing associates (TNAs) were recruited from the healthcare assistant workforce. Primary care was supported to pilot TNAs by the Surrey training hub with CSH Surrey, a local community health provider which was a trailblazer organisation, involved in early pilots. Working at a systems-level, opportunities were created across the ICS to share the role and rotate the TNA placements across services, for example, in acute and community services and within primary care including GP Practices. This arrangement not only provides a good experience of different settings for the trainees but they also get to appreciate how an ICS works.
Previously many healthcare assistants saw a nursing career as being out of reach, either they couldn't afford the university fees or didn't feel their knowledge and skill base was enough for them to make the transition. It is now anticipated that some of these TNAs will progress onto a nursing programme.
Rycroft Primary Care Centre
Rycroft Primary Care Centre, an NHS GP surgery, supported one of its healthcare assistants to undertake the nursing associate apprenticeship. The practice understands the value of offering development opportunities to its existing staff and staff appreciated being offered these opportunities and felt valued. Rycroft Primary Care Centre was able to offer this apprenticeship due to transferred levy funds that were gifted by a local NHS Trust, with the support of the West Yorkshire and Harrogate Excellence Centre.
While working in the practice, the trainee nursing associate (TNA) completes tasks including ECGs, blood clinics, smoking cessations, chronic disease reviews and spirometry tests. This allows the registered nurses to concentrate on more complex patients and tasks while the less complex patients still receive high quality care from the TNA.
To ensure the TNA was well supported, they were allocated a nurse mentor. This helps the TNA improve their knowledge through peer support and to ask questions to an experienced nurse. The TNA's line manager, an advanced nurse practitioner, was also allocated as her mentor, which was a key factor in making the TNA role successful.
The training undertaken by TNAs in primary care includes placements in a range of settings such as hospital wards and in the community. Since starting the course in September 2019, Rycroft's TNA has had nine weeks on placement. The practice has managed this time away and found forward planning was key to ensuring that backfill was available. It has used this time to provide further development opportunities to its phlebotomist and upskilled her to a healthcare assistant role. Rycroft is part of its local advanced practice training hub which operates a hub and spoke model. The centre is a 'spoke' practice, which hosts student nurse and trainee nursing associate placements, covering primary, secondary, and social care settings, as organised at the 'hub' practice at College Lane, Ackworth.
The practice anticipates that when the TNA becomes a qualified nursing associate, she could go on to complete cytology training, in which there is currently a shortage of expertise for the practice. There would then be an opportunity for her to progress further on to a registered nursing degree, with completion within eighteen months. The practice aims to use the role as a way for its existing staff to progress but would also consider recruiting externally into a role, should there be demand.
Resources
Find out more about using Nursing Associate roles in your organisation by watching our other webinars on Nursing Associates administering drugs and IV, Nursing Associates in community and mental health settings and attracting and retaining people into the Nursing Associate role.