News
Winner of the NHS Employers Award at the Advancing Healthcare Awards 2022
Celebrating the achievements of the winner at the Advancing Healthcare Awards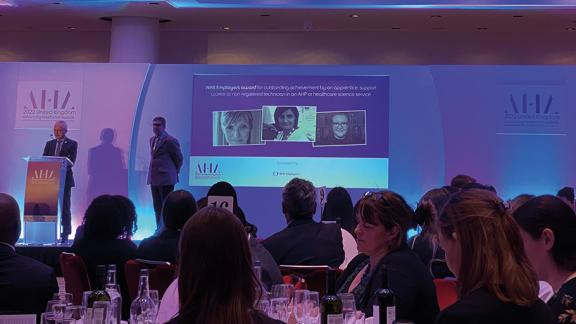 The Advancing Healthcare Awards recognise and celebrate the work of allied health professionals, healthcare scientists and those who work alongside them in support roles, leading innovative healthcare practice across the UK.
NHS Employers sponsored the award for outstanding achievement by an apprentice, support worker or non-registered technician in an allied health professional or healthcare service was won by Maggie Higgins, communication development officer at Swansea Bay University Health Board.
Maggie won thanks to her hard work in establishing a multi-disciplinary steering group to address the unmet needs of adults with a learning disability (LD) and additional sensory loss in Cardiff.
Maggie worked jointly with audiology services at University Hospital Wales, inspiring a redesign of the ways they offer services to people with learning disabilities. This included developing and delivering innovative training packs to educate health and social care professionals, families and carers, offering better support to those with LDs. Involving patients and families throughout, she jointly developed the My Hearing Action Plan, which supported patients and their families to understand their hearing loss and co-produce actions and desired outcomes with their audiologist and other healthcare professionals.
Maggie's work sustained a seven-fold increase in referrals to audiology services for people with a LD, resulting in a massive improvement in quality of life for patients and has inspired other healthcare organisations to look into improving their services for people with LDs.
For more information on this year's Advancing Healthcare Awards finalists, visit the Winners' Guide.