Article
Reducing the delay between job offer and start date
Tips to streamline your recruitment process for young people and reduce the delay between job offer and start date.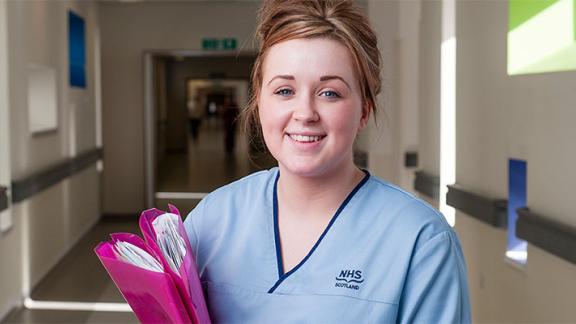 Delays between job offer and job start can be lengthy. This can lead to a high drop-out rate as participants seek employment elsewhere. This guide aims to provide employers with tips on how to reduce the time from job offer to start date. It is based on feedback from young people and examples from NHS trusts. The guide complements the Reducing time to hire for young people webinar which explored the key challenges faced by organisations and candidates during the recruitment process and provided an open forum where the potential for streamlining the recruitment process was discussed. 
The Prince's Trust pre-employment programmes enable you to provide a route into work for local young people who live in your community.
The We are the NHS: People Plan 2020/21 gives a clear commitment to increasing local recruitment and growing apprenticeships. Those who complete a Prince's Trust pre-employment programme can become ideal candidates for entry-level jobs and apprenticeships. Read more about how  Coventry and Warwickshire Partnership NHS Trust  supports young people through the pre-employment programme onto apprenticeships. 
Young people recruited through The Prince's Trust pre-employment programmes are often from vulnerable or less advantaged backgrounds and may have low confidence and self-esteem. Providing good support and a streamlined recruitment process can help them feel valued and part of the team even before they arrive. It sets their expectations of working in your organisation and helps build a connection.
Match the right local people to current vacancies
The Prince's Trust is an expert at finding the right local young people with the right values for current vacancies.
Nottingham University Hospitals NHS Trust recruits young people through Prince's Trust pre-employment programmes into both clinical and non-clinical roles. The trust runs its programmes based on current vacancies. This ensures that on completion of a programme, jobs are available for those young people.
Some NHS Trusts have broadened their social media reach by advertising vacancies and range of job roles on new platforms.
"Care4Notts have started using TikTok and it was incredibly well accessed!"  Emma Cross, Sherwood Forest Hospitals NHS Foundation Trust  
Coventry and Warwickshire Partnership NHS Trust has hired staff specifically to support new starters in a relaxed, informal café environment. This has been proven to be an effective way of keeping candidates 'warm' whilst overcoming the paperwork challenges involved with recruitment. 
"At careers fairs, interview people first to get to know them before discussing job roles." Ruth Auton, Head of Education, Learning and Organisational Development at Northumbria Healthcare NHS Foundation Trust 
Maximise opportunities at key touch points
Conditional offer
Contact your new starter by telephone and agree how they would like to be contacted before their start date and how regularly. Explain the next steps of the employment process including how long it will be before they start and reduce post-offer dropouts by keeping in touch:
Introduce them to the team, either in person or over a video call, to connect them to the people they'll be working with and build a sense of loyalty.
Offer an opportunity for them to ask questions and make them feel more comfortable about their first day.
Share a timetable for your new starters' first day and week to help them visualise themselves in the role.
Send candidates postcards or updates to keep them engaged. The Dudley Group NHS Foundation Trust sends a series of three handwritten postcards from: the chief nurse, their ward leader and a colleague that they'll be working with.
Create a closed Facebook group for new starters to engage with the team they will be working in.
Provide an idea of timescales and a regular update of progress.
Pre-employment checks
Make the young people aware of these standards and the documentation they will need to provide if they are successful in securing a role. Recommend that the new starter contacts their referees to ask them to look out for reference requests.
Acceptable documentation
If individuals are genuinely unable to provide any form of photographic personal identity, employers can request alternative documentation. For further information download the identity check standard.
Avoiding delays
Give overarching responsibility for pre-appointment screening to one department to ensure consistency and avoid unnecessary delays in getting the successful candidate started in the workplace.
DBS Checks
DBS application forms are often returned due to missing information or mistakes. This guide for applicants can be sent out to all candidates as part of the recruitment pack. 
Find answers and further information about NHS employment check standards in our employment checks FAQs. 
Set clear expectations
NHS Employers surveyed newly appointed healthcare support workers (HCSWs) in the North East and Yorkshire region. The findings highlighted in this resource show the need to communicate very clear expectations of the role from the beginning including shift patterns, role activities, and any additional requirements such as driving licences. It also recommended actions organisations can take to improve the attraction, recruitment, support and career development for new healthcare support workers and others.   
Read the results and recommendations from our survey of HCSWs.
Introduce online inductions
Kent Community Health NHS Foundation Trust created an online induction package. Successful candidates are given a log-in to the platform with their offer letter where they can complete statutory mandatory training. For details read the full blog.
East Kent Hospitals University NHS Foundation Trust developed a digital 'new starter portal' which allows new recruits to engage with the trust as soon as they are offered their new role. They can familiarise themselves with key information about their new place of work and its values to fully prepare for their new start.
Tips from three NHS trusts which have streamlined recruitment:
The Royal Wolverhampton NHS Trust
You can listen to a special podcast or read about the actions of The Royal Wolverhampton NHS Trust to reduce start-time delay, including the move to recruit all young people on the Get Into Hospitals programme as volunteers during their work experience, in this inclusive recruitment resource.

This interactive career path finder tool produced by Royal Wolverhampton NHS Trust offers a series of video tours showcasing what life is like in a hospital and the numerous roles needed to keep a busy hospital running. You can click on the 'i' in each video to find out more about the roles.

The trust has taken action to offer candidates paper-based application forms.  This intervention to improve accessibility has helped to increase the number of applicants applying for jobs.    
East Lancashire Teaching Hospitals NHS Trust
Employ a pre-employment co-ordinator to act as a single point of contact for young people. Our co-ordinator facilitates a taster day, helps complete paperwork, provides pastoral support and maintains contact.
Hold an allocated 'paperwork day' early in the Prince's Trust pre-employment programme to support young people to complete necessary documentation accurately.
Complete DBS and occupational health check paperwork prior to the commencement of work placements.
Recruit young people onto the staff bank if substantive posts are not available. This provides a stepping stone to a substantive post so they are ready to apply when a vacancy arises.
University Hospitals Birmingham NHS Foundation Trust
Align The Prince's Trust recruitment to their pre-employment programmes with current local recruitment drives and national strategies.
Hold a 'taster day' two weeks before the pre-employment programme begins to explain personal identity documentation and suitable reference requirements.
Make identity, DBS and reference checks on day two of the programme. Only the young people who have successfully provided these can continue.
Ensure occupational health checks have been completed before work placements commence. 
Enable those who are offered a substantive post within six months of the pre-employment programme to use their original DBS certification.
Related Resources