Guidance
Work health assessments
This page details health assessments for individuals undertaking new roles, or roles which have significantly changed.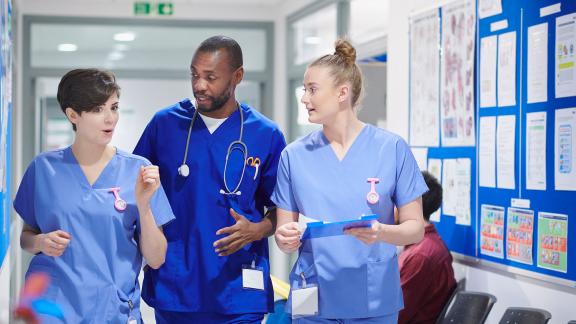 Please be aware, temporary pre-employment check measures were put in place during the COVID-19 pandemic. Some of these measures have now come to an end, will be coming to an end soon, or have been incorporated into permanent arrangements. Please read the information available in our guidance section.
This standard outlines the requirements that NHS organisations should follow when carrying out a work health assessment on a candidate.
 
Further information
There are six employment check standards that employers must undertake as part of their recruitment processes. Read the background information about the purpose of the standards, who they apply to and how to meet compliance and view our frequently asked questions.
It is difficult to give a set schedule of required vaccinations as this will differ between healthcare professions and between NHS organisations. We would therefore strongly recommend that employers work with their occupational health (OH) departments to determine which immunisations might be appropriate for each role, based on what would be considered proportionate to risk, both in the relation to the health and wellbeing of the individual themselves and from any potential patient safety aspect.

Employers will find it useful to refer to further guidance and advice provided by the OH team at NHS Health at Work to ensure they comply with the most up to date legislation in this regard.

Employers will need to refer to the Department of Health and Social Care Green Book which sets out the standards that determine which vaccinations are required for different healthcare workers.

Health professionals and immunisation practitioners can register to receive updates from Public Health England on vaccination requirements.

Although employers can require and accept work health assessments carried out by agencies and third party staffing providers that are on a framework agreement, the overarching responsibility for assuring the health and safety of all workers falls to the employing organisation. It will therefore be essential for employers to seek the necessary written assurances that all workers have the necessary occupational health clearance before permitting them to take up post.

It will be imperative that agencies and other third-party staffing providers work closely with their occupational health provider to fully recognise and understand the responsibilities of both clinical and non-clinical roles and the risks associated with those roles.
May 2022

Inserted link to the Department of Health and Social Care Green Book (para 3.1.3).
Inserted link to the registration page for a vaccination update from Public Health England (para 3.1.4). 

March 2022

Standard reformatted to make it easier to refer to. Wording changed to make requirements clearer. Links updated throughout.
Minimum requirement of complying with the equality act made clearer (section 2.1).

Reference to the streamlining programme removed.

Reference to the COVID-19 vaccination requirement removed. Further information can be found about this on our employment checks FAQ page.

February 2022

Page 8: we included news of the governments decision to remove the COVID-19 vaccine mandate for health and social care staff, subject to consultation and parliamentary approval.

January 2022

Page 8: inclusion of information on the requirement for all healthcare staff who are deployed in regulated activity and have direct face-to-face contact with patients to be fully vaccinated against COVID-19 from 1 April 2022.

August 2021

Page 8: inclusion of government announcement that staff entering care homes must be vaccinated against COVID-19 before doing so and supporting NHSE/I and DHSC guidance.