Article
Equality, Diversity and Human Rights Week 2023
#EQW2023 took place from 9-12 May 2023, it is a national campaign for health and care organisations. Find out what happened during the week.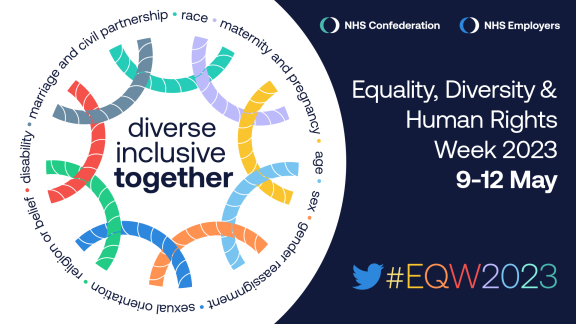 Now in its eleventh year, the week is a platform for health and care organisations to highlight their work to create a fairer and more inclusive NHS for patients and staff. 
During the week, health and care organisations from across the country support the campaign and host activities to promote and celebrate the great work taking place around equality, diversity and inclusion. 
Access a variety of blogs, guidance, videos, case studies and good practice shared throughout the week.
Our themes for #EQW2023 were:
• Webinar: Black Men Speak – Tuesday 9 May 1 - 2.15pm 
Barts Health NHS Trust is hosting this webinar for Black Inclusion Week. With an exclusive panel of all Black men, the event will aim to celebrate, inspire, and empower Black men, as well as discussing issues like health, leadership, and stereotypes. Find out more and book your place. 

• Webinar: Black Women Speak – Thursday 11 May, 1 – 2pm 
Barts Health NHS Trust is hosting a webinar as part of Black Inclusion Week. With an exclusive panel of all Black women, the event aims to celebrate, inspire, and empower Black women, while also discussing important topics like health, leadership, and personal growth. Find out more and book your place.

• Webinar: Power of Me: Career Progression with a Disability - Friday 12 May 12.00 - 13.00pm
East Sussex Healthcare Trust, in collaboration with the Southern Disability Support Network is running an awareness session, exploring the experiences of disabled staff progressing their careers in the NHS. Find out more and book your place.

• Webinar: "What the Staff Network Means to Me" - Thursday 11 May 12.30-1.30pm
Ashford and St Peter's Hospitals NHS Foundation Trust, in collaboration with the Southern Disability Support Network are be running a webinar on the importance of staff networks to its members and allies. Find out more and join the guest list.

• Webinar: Introductory session on neurodiversity - Thursday 11 May 1 – 3 pm
Join Jasmine Murphy, consultant in Dental Public Health and EDI Champion, on 11 May 2023 for an introductory session on Neurodiversity. Find out more and register your place here.

•  University Hospitals Plymouth NHS Trust - access a wide range of events

University Hospitals Plymouth NHS Trust is supporting EQW2023 by sharing a list of upcoming events that promote equality, diversity, and inclusivity. Find out more.

 

If you are looking to run your own campaign, download our promotional resources which include: