Article
Equality, Diversity and Human Rights Week 2022
Taking place 9-13 May 2022, #EQW2022 is a national campaign for health and care organisations. Find out what's happening during the week.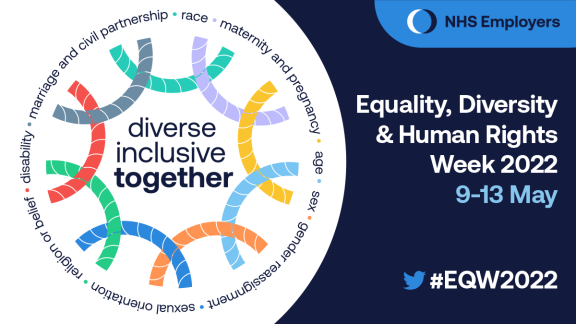 Now in it's tenth year, the week is a platform for health and care organisations to highlight their work to create a fairer and more inclusive NHS for patients and staff.
During the week, health and care organisations from across the country support the campaign and host activities to promote and celebrate the great work taking place around equality, diversity and inclusion.
The week coincides with other national campaigns such as mental health awareness week and national staff networks day, we have therefore linked to these in some of our daily themes.
Every day we will update this page with links to blogs, guidance, videos, case studies and good practice.
Monday 9 May 

 

Mental health and wellbeing

Tuesday 10 May 

Disability in the workplace

Wednesday 11 May 

Staff networks

On National Day for Staff Networks listen to our podcast below to hear Habib Naqvi, Yvonne Ormston, Richard Stubbs and Layla McCay talk about

the benefits and value of staff networks, and why they are needed now, possibly more than ever, to support

 the health and wellbeing of our diverse workforce. 
Read this blog by Steven Weeks, Steven shares insights around using the NHS Staff Survey alongside EDI staff networks to improve equality in organisations. 
Take a look at the Improving staff equality networks through partnership working good practice guide produced by the NHS Staff Council's Equality, Diversity and Inclusion Group. 
Read this blog, My staff network journey by Michelle Healy at West Hertfordshire Hospitals NHS Trust where she discusses the importance of staff networks and the support they provide. 
Watch our staff network webinar recordings:

Thursday 12 May 

Inclusive recruitment

To support employers to meet some of the actions of the NHS People Plan, take a look at the following resources.

Friday 13 May

Intersectionality

In this blog Understanding intersectionality and engaging with diverse staff and communities, Dr Shamaila Anwar talks about intersectionality and creating psychological safety.
To support EQW2022 the Electronic Staff record (ESR) team published an article detailing how ESR supports equality recording/monitoring across the NHS. The article also includes a reference to an upcoming development which they hope will help to further improve declaration rates for key personal information and equality data items.
Read this blog from Darren Jalink, commercial director at Employers Network for Equality & Inclusion (enei). Darren shares his thoughts on the once in 30-year meeting of Ramadan, Pesach, and Easter in the calendar and examines how this sense of unity can relate to the workplace. 
National Day for Staff Networks
National Day for Staff Networks takes place on Wednesday 11 May. In its sixth year the purpose of the day is to shine a light and recognise the multiple benefits that staff networks offer employees, and in many cases their organisation. The day presents an opportunity for networks to celebrate their contribution, inspire with their stories and offer insight into the lived experiences of often underrepresented colleagues. 
Listen to our podcast recorded in celebration of the day with Habib Naqvi MBE, Director, NHS Race and Heath Observatory and the leaders of the NHS Confederation's three EDI Leadership networks; Yvonne Ormston, CEO Gateshead Health NHS Trust and deputy chair of the Health and Care Women Leaders Network, Richard Stubbs, CEO, Yorks and Humber Academic Health Science Network and co-chair of the BME Leadership Network and Layla McCay, Director of Policy, NHS Confederation and co-chair of the Health and Care LGBTQ+ Leaders Network. 
Evenbreak are running a webinar on attracting disabled candidates

it takes place on Tuesday 10 May 2-3pm. 

At a time when every employer is chasing the best talent, what can you do to make sure talented disabled candidates apply for your roles? This webinar looks at the factors that might put off disabled candidates and those that will give them the confidence to apply by seeing you as an inclusive employer of choice. Hear tips and tricks on how you can attract the very best talent. Book here.  
A Conversation with Maz Edwards - The Challenge of Transitioning while still employed NHS England and NHS Improvement's South West EDI group are hosting this event on 12 May 2-3pm. The session will focus on the experiences of Maz Edwards and the challenges she faced going through the transition while trying to maintain full-time employment. Book your place

Employee Engagement Summit - Engage Employee

Taking place on 12 May, Paul Deemer head of diversity and inclusion at NHS Employers is speaking about diversity and inclusion in a fireside chat at 11.30am-12noon. Find out more information and book your place
The Inclusion Ambassadors at the Royal United Hospitals Bath NHS Foundation Trust (RUH) ​​​​​​are running running two 'Stand by me' sessions for all staff on Friday 13 May. These sessions will include how to recognise micro-aggressions and how to speak up and challenge discrimination. 

In addition they are visiting the wards with their support trolley with resources for staff around support and wellbeing. Wellbeing facilitators will be offering wellbeing conversations and they will be sharing their 'Helpful phrases' handout to support staff to challenge discrimination. 
Tameside and Glossop Integrated Care NHS Foundation Trust is hosting inclusive recruitment masterclasses aimed at recruiting managers with hints, tips and guidance for recruiting the best staff member for the role. It will include guidance on shortlisting criteria and understanding unconscious bias.

The trust is also hosting masterclasses that will examine the relationship between mental health and LGBTQ+ identities, challenging conventional coping and community support strategies by applying an intersectional lens. 



They also have a dedicated day for staff networks on Wednesday 11 May providing an opportunity for their staff members to visit dedicated on site pop up stands to meet with members of their three networks which are:


 

(SIREN) - Staff Inclusion Race Empowerment Network

 - created to ensure that the organisation addresses the needs of our BAME (Black, Asian and Minority Ethnic) staff members, by helping them challenge inequality and ethnic discrimination. SIREN Staff Network aims to create a sense of belonging by providing a safe forum to network, socialise, share, question, challenge and receive support and advice in relation to race equality.

(DAWN) - Disability and Wellbeing Network

 - created to work with and bring together staff with disabilities in a safe, confidential and informal environment to share knowledge and experiences whilst working with the organisation to raise awareness of disability inclusion, assist in the removal of obstacles and difficulties, and provide effect and meaningful change.

(LGBTQ+) Lesbian, Gay, Bisexual, Trans and Queer Network

 - created to build a supportive community and act as a voice for all staff in their organisation who identify as a member of the LGBTQ+ community. The network aims to create a safe, inclusive and diverse working environment that encourages respect and equality, whilst helping then recognise and promote sexual orientation identify and gender identity in our workplace.

The Inclusion Centre at Barts Health NHS Trust is holding a series of webinars:

Manchester University NHS Foundation Trust is launching their Be.Inclusive campaign during the week. The campaign is a call to action to all their 28,000 colleagues – all roles, bands, areas of work and protected characteristics to be 'inclusionists' and get involved in the trust's inclusion journey so that every single member of staff feels that they belong, and the diversity of their patients' needs is met.

Liverpool Women's NHS Foundation Trust are hosting a series of staff events:

Monday 9 May – Mental Health Awareness Week, their stand will have more information on their new in-house Psychology led Service for staff, with a focus on PTSD support.

Tuesday 10 May – Disability in the workplace, information about their new attendance and wellbeing policy and toolkit will be available to staff.  Reasonable Adjustments and how to refer to Access to Work if staff require additional equipment or adjustments to carry out their roles.

Wednesday 11 May – Staff Networks Day. Hosting a stand that will share information for staff from protected characteristics and how to become a member.

Thursday 12 May – Inclusive Recruitment, they will share their strategic ambitions in relation to inclusion and being more representative of the local community, current position and what recruitment initiatives they have in place.

Friday 13 May – Intersectionality. Hosting a stand to raise awareness of what it is. 
#EQW2023
#EQW2023 will be taking place from 9 to 13 May 2023.