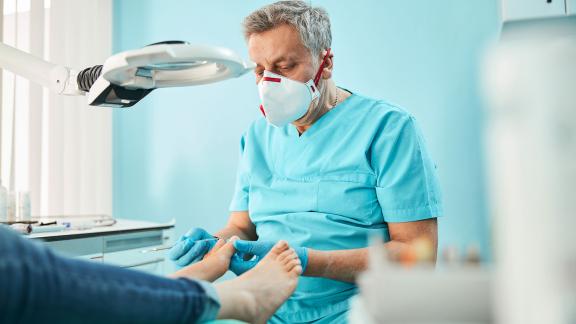 Lois talks about her passion for a career in podiatry, the benefits it brings her and her family and how she will achieve her dream of becoming a podiatrist. 

After having my son, I knew I couldn't return to a full-time job in an office, but I still needed to provide an income for my family. In 2012, for my first course to enable me to practice as an FHP. 

First, I gained a level 3 qualification that gave me the confidence and an appetite to learn and develop. My desire to continue learning led me to gain a level 4 qualification in 2018 plus a further assistant podiatry certificate, which I successfully completed in 2020. 

Because I had an A Level in biology and had my Maths and English GCSEs, coupled with the foot care qualifications, I was able to apply to do the podiatry degree. I was accepted and started the course in September 2023. 

I'm not going to lie, the journey has been tough. As soon as I qualified as an FHP, I was out seeing patients, juggling broken sleep and all the perils of motherhood. However, as soon as once I started, I knew it was for me. The role offers flexible working arrangements, and whatever work I put in, I would reap what came back to me. 

From the beginning I've never stopped learning, I've continually enrolled in Continuing Professional Development (CPD) courses to boost my confidence and knowledge I've also been lucky the people I've met along the way have fuelled my inspiration. It's always been about knowledge for me, to be better at what I do and offer the best outcomes for the people I treat.  

I would love to work for the NHS as it's the gold standard of healthcare and I personally feel it's the best place to build experience and knowledge. I've come a long way, but I also know I have a long way to go. Becoming a podiatrist is the next natural step, and now I've been offered a place at university, feels like a dream come true. 

I am nervous and apprehensive about starting the degree programme, after all, I have a family to take care of as well. My secret so far has always been little and often so if I stay up late or make an early start to finish an essay then that is what I will do. My previous experiences in life have meant that I've had to be planned and organised so I'm hoping this will set me in good stead for coping with the demands of the degree.   

My advice to myself and others is if you love what you do, if you love the profession, then take the leap of faith. The world of podiatry is an amazing career, full of opportunities to diversify.  With a bit of luck and hard work, the opportunities are endless. 

After twelve years working in a performing art, music, and media college, I felt I was ready for a change of direction. I researched career options and mobility kept coming up. At the time, I did not know the role I now do even existed in the NHS, and so initially my search took me to the world of FHPs, Having completed the training, I really enjoyed working on a one-to-one basis with patients, helping people maintain their dignity and independence. This gave me a real sense of making a difference.

I had been working as an FHP for four years when I heard about an NHS band three podiatry assistant vacancy in my area. I liked the independence and slower pace of my FHP job, but I really wanted to find a way that would help me develop in my role. I was successful at the interview and was delighted to accept the post. Since joining the NHS two years ago I have benefitted from the advantages of working in a team setting. I have learnt so much about podiatry and have really appreciated the supervision and support as well as the varied and interesting work.

Working in the NHS has helped me develop in my role as a podiatry assistant, helping me build on my FHP training by completing an assistant practitioner course with RCPod. Working in a team has provided me with an appreciation of the complex caseload that podiatrists in the NHS have. Seeing a more complex caseload under the supervision of the podiatry team has helped me as a podiatry assistant spot the 'red flags' and early warning signs that patients may present with. I know when and how to refer or escalate concerns to the right professional to keep patients safe. The supervision and support have provided a psychological benefit for me too - not feeling like I am on my own.
 

Level 2 – Healthcare support worker (HCSW).  

Level:

2, Minimum duration 12 months, Maximum levy funding: £3,000

Healthcare support workers (HCSWs) work as part of a team and may carry out clinical and non-clinical duties depending on where they work. HCSWs work in a range of healthcare settings and with colleagues from both health and social care, they are supervised by a registered healthcare practitioner.

Read about the apprenticeship standard.

Level 3 – Senior healthcare support worker (SHCSW). Typical length: 18-24 months.

Maximum levy funding = £5,000

Senior healthcare support workers help registered practitioners deliver healthcare services and often carry out a range of clinical and non-clinical healthcare or therapeutic tasks within the limits of their competence. They work under the direct or indirect supervision of the registered healthcare practitioner and can be based on a range of services such as hospital, community, GP surgeries, or in partnership with individuals, families and other service providers.

Read about the apprenticeship standard.

Level 5 – Assistant practitioner (health). Typical length: 24 months.

Maximum levy funding = £14,000

An assistant practitioner can support organisations to deliver high-quality, patient-centred care in a variety of settings. Although they are not registered practitioners, they have a high level of skill and an in-depth understanding of the factors that influence health and ill health through their experience and training and work under the direction of registered healthcare professionals including registered podiatrists. Some level 5 assistant practitioner programmes allow for accreditation of prior learning (APEL) onto podiatry BSc programmes. RCPod also offers an assistant practitioner training programme.

Read about the apprenticeship standard.

Level 6 - Podiatrist degree. Typical length: 48 months

Maximum levy funding = £24,000

The degree leads to an individual becoming a registered podiatrist who specialises in the lower limb, for example, feet, ankles, or legs. Podiatrists provide preventative advice, care, assessment, diagnosis and treatment. They also aim to reduce the impact of disability and dysfunction and have a role in rehabilitation. In addition, they play a pivotal part in reducing the risk of amputation, infection, pain, deformity and hospital admissions.

Read about the apprenticeship standard.

Enhanced level of practice Typical length: 18 months

Maximum levy funding = £7,000

Enhanced practice is used to describe the practice of highly experienced, knowledgeable healthcare professionals who have obtained a level 6 qualification. They can work as part of a multidisciplinary team across a wide range of health and care settings and come from all multi-professional backgrounds, including podiatry. Visit the institute of apprenticeships and technical education webpage and NHS England's guide for information on enhanced clinical practice roles.

Level 7 – Advanced clinical practitioner - Typical length: 36 months

Maximum levy funding = £12,000

Advanced practitioners (also referred to as advanced clinical practitioners) are experienced clinicians who demonstrate expertise in their scope of practice. Advanced practitioners manage defined episodes of clinical care independently, from beginning to end, including admission, referral or discharge and carry out their full range of duties in relation to individuals' physical and mental healthcare in acute, primary, urgent and emergency settings. Apprentices complete a Master's degree in advanced clinical practice and combine expert clinical skills with research, education and clinical leadership within their scope of practice. 

An interview with Marian Bennett, a specialist podiatrist from East London NHS Foundation Trust

1. Why do you think apprenticeships in podiatry are the way forward?

For the learners, it's a fantastic opportunity to learn the profession from the inside out and get paid while they learn. Our apprentices are on the job and part of the team from day one. There's no better way to learn.

For employers, supporting apprentices is a way of growing a strong, competent workforce for the future and giving people a different route into the profession. And while employers need to invest, both financially and in terms of time and support, apprentices quickly become valued, contributing team members.

2. What are some common myths around apprenticeships, and how would you challenge them?

I've heard it suggested that apprentices won't have the same level of academic knowledge as their undergraduate peers - but they must complete the same academic exams and modules as traditional podiatry students. They also get a much greater opportunity to implement that knowledge in practice so it's never just theoretical. They also get access to a team of qualified podiatrists to talk to about their learning.

I think people also believe that apprentices can't do much clinically and are not going to be an asset until they have graduated, but that's just not the case. If the apprentices are supported to develop their clinical and administrative skills. It's important to remember that these are not students shadowing your service, they are employees with an active and important role to play. The more you put into them, the more your service will benefit throughout the apprenticeship, not just once they have graduated.

3. How have you seen apprenticeships help your service and what do you anticipate the long-term benefits will be?

We currently have three apprentices, they contribute a huge amount and are integral members of the team. As well as our more experienced apprentices running ulcer and high-risk clinics under podiatrist supervision, they run independent clinics including nail surgery assessments and redressing clinics. They provide support in nail surgery, hospital outpatients and musculoskeletal (MSK) clinics, and manage all the administration for our National Diabetes Footcare Audit reporting, our education service, peer audits, and so much more.

The apprenticeship is a win for them and the profession. They have a real understanding not only of how our service works, but also a broader understanding and working knowledge of podiatry services and the NHS in general. They will graduate with four years' experience of full-time employment in a podiatry service, and clinical skills that will enable them to step immediately into more complex patient care.

4. How can podiatry services with no experience of recruiting and embedding apprentices get started?

There is support available through RCPod website including a set of resources and documents . Your trust will have an apprenticeship lead that can offer support and advice. It's also worth looking at the healthcare apprenticeships website on Skills for Health for advice and resources.  Your local universities can also support you.

Also, talk to people who have done it. There are apprentices all over the country now and while it's still a new thing in podiatry, there are plenty of employers who do have experience that they can share with you.

5. What are the practical steps NHS organisations can take to best support their apprentices during their learning journey?

You'll be given information on the academic modules that your apprentices will be doing through the course and you'll be having conversations with the apprentices about this along the way. Where possible, it's helpful to try and tie their clinical experience in with their academic learning. For example, enabling them to support in MSK clinics when they are studying anatomy or gait analysis. It's also really important that as their academic learning progresses, they are able to develop more advanced clinical skills and be allowed to work more independently where possible.

Apprentices should have a clinical educator as well as a line manager – preferably not the same person – so that they have someone who is focused on supporting their learning journey separately from their management as an employee. 
Information on how to find an approved apprenticeship training provider is available on Gov.uk.
The Education and Skills Funding Agency (ESFA) manages the register of apprenticeship training providers.
NHS England has produced an apprenticeship procurement toolkit for employers, which offers support with navigating the procurement process and provides an overview of the various options for support available nationally, as well as a series of case studies.

Lucy and Phoebe both work as podiatry apprentices at East London NHS Foundation Trust. They started their journeys at the same time and are benefitting from each other's support.

Phoebe Edwards' apprenticeship journey

 

I worked as an administrator in Cambridge Community Service NHS Trust in the community diabetes service in 2018. I learned how clinicians can make a huge difference in people's lives, and how important mobility is for a good quality of life. It sparked an interest in me and I knew I wanted to head toward a clinical route, but I didn't know what exactly. I completed the care certificate to help me get started, and it was during the course that I got to shadow podiatrists and nurses working with diabetic patients. I was keen to learn more and completed the Cambridge Diabetes Education Programme, when I discovered the podiatry apprenticeship opportunity. I took a leap of faith, applied, and got the job. I

I am lucky to work with another apprentice, Lucy. We support one another to overcome the challenges of coming from a non-clinical area. We keep each other motivated, learn from each other, and have together found the balance between studying and doing the practical work. It takes a lot of dedication and hard work but can be done.

Lucy Beaumont's apprenticeship journey 

 

Although my mum works in podiatry, it didn't occur to me initially to follow in her footsteps. I embraced my artistic side and completed a surface pattern and textile design degree but soon realised it wasn't my passion. I secured a job as a medical secretary in a GP practice in Bradford, where I had the opportunity to learn about different specialisms and this inspired me to explore my options further in a clinical role. 

I supported my parents' private foot clinic with reception cover, which also allowed me to shadow podiatry up close within a private setting.  My mum is a podiatrist and my stepdad a foot health practitioner, who both upskilled within their NHS careers.

Having admin experience at the GP Practice and further shadowing experience within a private podiatry clinic helped me to gain a better understanding of just how vital this area of clinical practice.

Seeing the work ethic and passion my parents showed their patients was truly inspiring, and I'm so proud to see the careers they've built for themselves. I wanted to do the same. 

When the apprenticeship route became available, I jumped on the opportunity. I knew it was the perfect route for me as I learn best through using practical skills. I'm grateful that my employer decided to employ both Phoebe and I, even though there was only initially a single job post.  I think they could see the benefits of having good peer support and was keen to for us to have that.   

We've found that as we progress further through our apprenticeship, we're often teaching the traditional BSc route podiatry students, who ask for our advice on procedures. They value our practical experience, and we learn from them too. It's clear that the best course for anyone thinking about podiatry depends on their learning style! 

Ruth Clausen's apprenticeship journey

Ruth is an assistant practitioner in podiatry at Torbay and South Devon NHS Foundation Trust. She has been working as an assistant practitioner since 2014 and helped with the implementation of vascular clinics.

Using previously acquired competencies she can perform total contact casting for diabetic plantar wounds. Assisting people of all ages, backgrounds with their feet to help maintain healthy feet is very rewarding from the simple aspects to helping to protect the limb of a person. Ruth has been given the opportunity to extend her knowledge and skills and continue her learning journey onto becoming a registered podiatrist.

Ruth is currently undertaking the podiatry degree (BSc) apprenticeship, which is delivered as a blended learning programme with one day a week online learning from lectures, directed clinical learning, exams and giving presentations.

Ruth spends one day a week with a clinical educator within the podiatry service to gain the knowledge and skills to become a podiatrist. This involves working in ulcer clinics, assessment, biomechanical and nail surgery clinics, enhancing practical and academic learning.

Being a degree apprentice means she still works within the department and still gets paid and this route will guarantee a band 5 job at the successful completion of the course.