News
NHS Workforce Disability Equality Standard (WDES) 2021 report published
NHS England and NHS Improvement has published it's annual WDES report for NHS trusts and foundation trusts.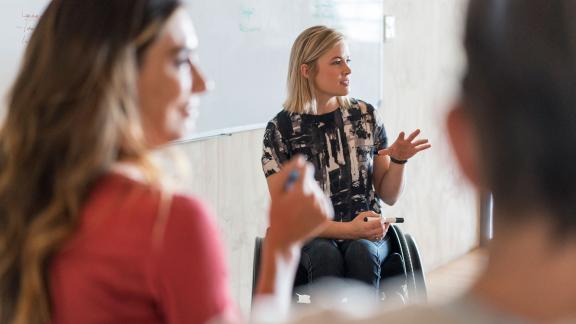 Published during Equality, Diversity and Human Rights Week, this report shares data measured against ten metrics that compare the working and career experiences of disabled and non-disabled staff working across the NHS. 
The report highlights that the proportion of disabled staff at very senior manager level has increased to 3.4 per cent in 2021, from 2.8 per cent in 2020, and 1.6 per cent in 2019.
Disabled staff report feeling slightly less engaged with their organisation, with an engagement score of 6.68, compared to 7.15 for non-disabled staff.
Paul Deemer, head of diversity and inclusion at NHS Employers said, "The national WDES report shows that employers are generally moving in the right direction in terms of proactively addressing the needs and requirements of their disabled staff."
"However, there are clearly areas where more needs to be done, and that revolves around attracting more disabled people into the NHS. Many staff are fearful that their disability may be held against them, we need to give them the confidence to have open conversations with their manager and organisation around their disability. We also need to create a culture where difference is accepted and supported, so disabled people can flourish in their roles."
"Another big barrier is the narrow definition and categorisation used in both NHS Jobs and the Electronic Staff Record system. The definitions listed on these systems are not comprehensive and this can prevent disabled people from declaring their disability." 
"These national systems need to be changed quickly, so that current and future disabled employees can fully define themselves at work, and employers can then better understand how to meet their needs."
Access the  WDES 2021 annual report to read the report findings and key recommendations.
Further information
NHS Employers has been working with NHS England and NHS Improvement to support the implementation of the WDES, and provides guidance and resources to help employers be more inclusive and support disabled staff in the workplace.