Infographic
Eight elements of workplace wellbeing
Our poster shows the eight elements that are essential for your workplace wellbeing.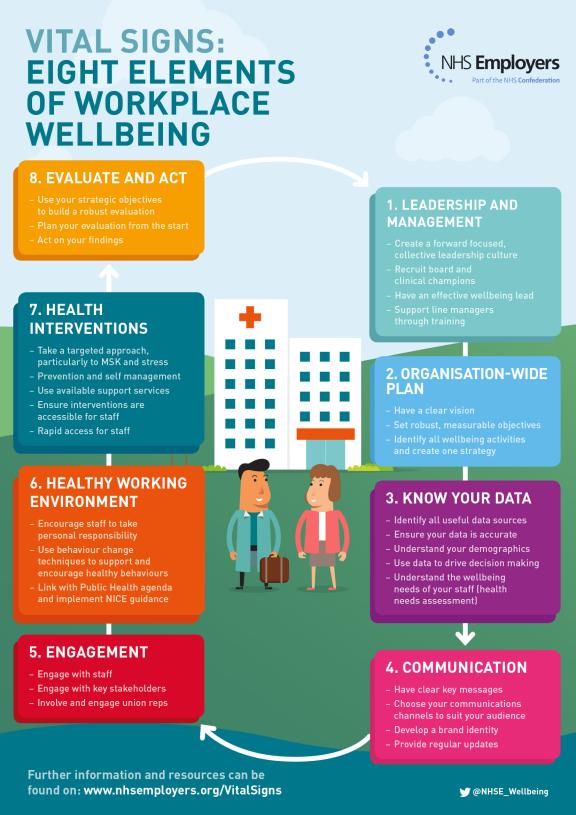 Download and view our poster, which shows the eight elements that are essential for your workplace wellbeing. Having these in place will help your organisation have a robust and sustainable health and wellbeing programme.
The eight elements have been updated to support you in implementation of the new NHS Health and Wellbeing Framework.
These eight elements were developed with health and wellbeing leads in the NHS and are critical to delivering a robust and effective health and wellbeing offer for your staff.

All eight elements need to be in place in order to ensure your wellbeing strategy is as effective as possible. Communication and leadership are essential to create a healthy culture in your organisation, where staff are fully supported.
Download the poster as a pdf  - Update July 2021: we are looking to update these eight elements when NHS England and NHS Improvement launch their updated HWB framework (exact date TBC).
Create a forward-focused leadership culture
Having a leadership culture, where health and wellbeing is encouraged and supported, is key to ensuring staff are able to engage and prioritise their own wellbeing. You can find further resources on creating a good culture and supportive organisation on the DoOD web pages.

Recruit board and clinical champions
It is important that health and wellbeing is championed from the top of the organisation. Leaders need to be seen leading the way and prioritising health and wellbeing at board level. Having a clinical lead can also help you gain buy in from clinical staff across the organisation.

Have an effective wellbeing lead
Your wellbeing lead will be the one to coordinate the wellbeing programme - working with key stakeholders and keeping the board informed and involved. It is critical to make sure you have an effective health and wellbeing lead, who can drive the programme forward using evidence-based strategies.

Support line managers through training
Your line managers will have a significant influence on employee attitudes and behaviours. It is therefore important to make sure line managers are trained in supportive behaviours and relevant policies. Making health and wellbeing a central part of the line manager's role is a way of supporting staff to feel valued and able to discuss any concerns before they reach a crisis point. Find out more about line manager training.

Have a clear vision
It is important to ensure that all stakeholders and your leadership team are on board and have the same shared strategic vision. It is also key to ensure that this vision is clear both to leaders and staff, and understandable for all.

Set robust, measurable objectives
Objectives should set out in your evaluation plan what your overall health and wellbeing programme aims to achieve, and the overall goals that performance will be measured against. The objectives should always be clear, provable and relevant to your role and the remit of your strategy. Success can be dependent upon a number of external factors beyond your control. Make sure that your objectives are not impossible for you and your team to achieve. Setting robust objectives is important in your evaluation, as it helps you to define and measure success.

Identify all wellbeing activities and create one strategy
Pull together all wellbeing activities, whether that is your sickness absence policy training or occupational health provision, and create one strategy with all the different elements. This helps to give a clear and consistent message to your staff and enables you to set robust objectives for all elements of the programme. You can do this by creating one brand and one central place for staff to find information. 

Identify all useful data sources
Health and wellbeing can be measured using a number of metrics such as sickness absence rates, top five reasons for absence, return to work interviews, vacancy rates, staff turnover, human resource or occupational health interventions and referrals, agency and bank staff usage, staff survey response rates and many more. It's important to identify which data sources are useful and think what impact each metric has on staff, or patients. Also consider whether you need to talk to staff about this metric so that you can understand the context and the impact this is having.

Ensure your data is accurate and up to date
Having up to date, real time data is really important to help you gain an accurate picture of what is happening in your organisation. Make sure managers know how to log data on ESR regularly and accurately and ensure that you are collecting the right data at the right time.

Understand your demographics
Make sure you know who your staff are and the demographics across the organisation. This can help you tailor your approach to interventions and ensure they are as effective as possible. 

Use data to drive decision making
Align your health and wellbeing programme to your workforce challenges. You can use your data to understand where health challenges impact most in your organisation. Develop targets for staff health and wellbeing and include these in your planning.

Understand the health and wellbeing needs of your staff (health needs assessment)
If you understand the needs of your staff you can develop effective plans for addressing specific issues in your organisation. Staff will then feel able to talk about their health and wellbeing needs and any health conditions they may have.

Have clear key messages
Use simple language and clear messages to ensure that all of your staff can engage with your health and wellbeing strategy.

Choose your communications channels to suit your audience, It's important to think about how your staff best respond to communications. If they are regularly at a computer, the intranet and email might work best, but if they are mainly on the ward, try using line managers and posters as the way to reach them.

Choose your communications channels to suit your audience

Everyone digests information differently. Some prefer modern electronic methods while some prefer paper formats. Know how your staff and how best to communicate with them because if staff feel involved and their needs are being met, the message you are trying to communicate will have more chance of being effective.

Develop a brand identity
Developing a brand identity for your health and wellbeing programme can really help you engage your staff and communicate the message widely. It also helps you to bring together all of your wellbeing activities under one brand or strategy.

Provide regular updates
Use your regular communications to share health and wellbeing examples and stories from staff. You can also use this to share how you have implemented the changes that your staff ask for. 

Understand the wellbeing needs of your staff
Staff engagement is a key part of delivering a robust health and wellbeing programme. It is critical to know and understand what your staff want and need. Use the data already available to you, such as the staff survey, but also go out and ask your staff what they would like. This gives you the opportunity to share what you have already done to support them, and how you have acted on their ideas. You can learn more on our staff engagement web pages.

Engage with key stakeholders
There are lots of different people across your organisation who might be, or ought to be involved in implementing a health and wellbeing programme. Make sure that you engage with occupational health, physio, communications, human resources, learning and development, public health, finance and anyone else you think might have a part to play. You can also work with your local community to make the best use of public services available.

Involve and engage staff union reps
Partnership working is critical in ensuring the success of your health and wellbeing programme. Work with your staff side reps to create strategies and policies. Many of the unions already have national programmes for health and wellbeing, such as the Royal College of Midwives' Caring for you campaign, so link in with what is already happening rather than reinventing the wheel.

Encourage staff to take personal responsibility
Encourage your staff to look after themselves and have self-compassion. Working in such a busy caring environment means that staff may not take the time to look after themselves and develop healthy habits. Creating a culture that supports and encourages health and wellbeing can help staff realise the value of self-compassion and take personal responsibility for their own health.

Link with the public health agenda and implement NICE workplace guidance
Use the evidence base to offer your staff healthy options and to help tackle workplace ill health. Prevention is really important to help staff feel well at work for longer. Timely interventions and prevention can significantly reduce sickness absence and the length of absences. The NICE guidance provides a clear, evidence-based framework for you to get started which can be used alongside the intervention sections of our framework.

Take a targeted approach particularly to MSK and stress
Target your interventions to help support your staff. You can use your data to find where hotspots are, and learn good practice from areas that are doing well. Particular staff groups may need more support than others.

Prevention and self management
If you invest in prevention and self-management you could lower the likelihood of absence. Create a healthy and supportive working environment for your staff. Up-skill your line managers and staff and make self-management interventions accessible. You can find out more on our supporting line managers web pages.

Use available support services
Link in with your local public health teams and other providers in the area such as leisure centres to make your offer more comprehensive for your staff. You can also make the most of the expertise in your organisation, such as physiotherapist services or mental health support. It might be worth linking in with other local NHS trusts and the STP footprint in your area to make the most of resources.

Ensure interventions are accessible for all staff
It's really important to make sure all your staff can access your interventions. Think about when different interventions are available. Is it best to schedule activities at lunchtime or would the start or end of shifts be better? Make sure that your night shift staff have the same access to interventions and activities as others.

Rapid access for staff
Secure rehabilitation and occupational health treatment for your staff. This will enable your staff to remain in the workplace or enable a return-to-work process which is, fast, practical, and reasonable. A rapid access system not only benefits your employee but your organisation and the patients you care for. Our guidance provides advice for HR and occupational health professionals to design and manage rapid access services for staff in their organisation.

Use your strategic objectives to build a robust evaluation plan
In creating your clear strategic vision, you will set robust, measurable objectives. Use these to form the basis of your evaluation plan. Find out how to evaluate your health and wellbeing programme.

Plan your evaluation from the start
It's really important to plan how you are going to evaluate your programme before you start any interventions. This helps you to set measurable objectives and determine what success looks like. It can give you focus and ensure that you are doing the right activities according to your objectives. Often evaluation is an afterthought, but in planning early, you can demonstrate the impact of your programme from the outset and ensure interventions are aligned with strategic objectives.

Act on your findings
If your programme is evaluating well, interrogate what works and replicate it. If your interventions are not working, find out why and amend them accordingly. Is it because you didn't communicate well or are the interventions not what staff want? Do your interventions have a lasting impact? Make sure that you communicate your findings to your staff and the board.